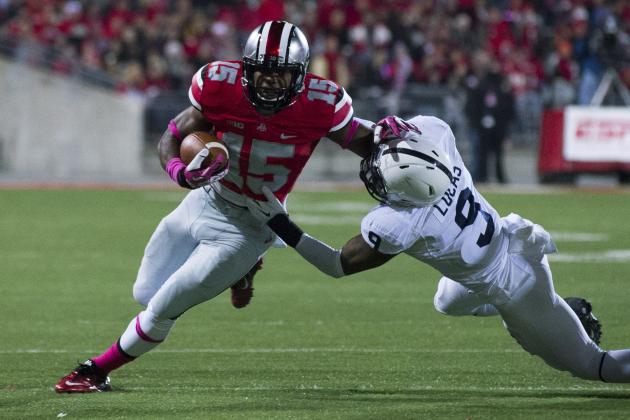 Throughout the rich history of Ohio State football, running backs have always been a big part of the offense. Whether it was during Woody Hayes' era of "three yards and a cloud of dust," or Jim Tressel's conservative "Tresselball," or the present day no-huddle, spread offense of Urban Meyer, running backs have played a big part in the success of Buckeye football. Just look at all the Heisman trophy-winning running backs throughout the program, including the only two-time Heisman winner in the history of college football, Archie Griffin. So what's the running back situation look like heading into 2014? Well for starters let's address…
1. Filling the Void of Carlos Hyde – The graduation of Carlos Hyde from the program is a noticeable one. He was one of the constant playmakers for the Buckeyes all season long in 2013. Hyde rushed 208 times for 1,521 yards and 15 touchdowns, while averaging 7.3 yards per carry. He accomplished this despite being suspended three games at the beginning of the season. He's basically irreplaceable. You don't find running backs like Hyde everyday and it's unfair to expect this year's running backs to match this type of stellar production (they have the potential to match it). And this year's group of running backs aren't short on talent either. The running backs tasked with replacing Hyde are sophomore Ezekiel Elliott, redshirt-senior Rod Smith, redshirt-sophomore Bri'onte Dunn, redshirt-sophomore Warren Ball and true freshman Curtis Samuel. Who will standout as the #1 running back out of all them? It'll most likely be Ezekiel Elliott. Speaking of Elliott…
2. Will Ezekiel Elliott Have a Breakout Season? – The most likely starter for the opening game against Navy at running back will be Ezekiel Elliot. He might not get as many reps in the opening game as you expect because he's coming off a fractured left wrist surgery. But once the season gets going expect Elliott to shine the most among the running back stable. Buckeye fans got a taste of what Elliott had to offer last season during some blowout games. If you forget Elliott's work, take a look at his 2013 highlight reel:
Granted these were against clearly inferior opponents and backup defenses, but you could see the potential in Elliott. He's got the ideal "package" for your starting running back. Elliott is big and strong enough to truck defenders over, yet has breakaway speed and agility to outrun secondaries. With another offseason under strength and conditioning guru Mickey Marotti, I'm sure Elliott is even stronger and faster than last season. I have a feeling Big Ten defenses are going to get to know Elliott quite well this season and not in a good way (for them). In a couple of years he may even reach the same level as his predecessor. But I'm getting ahead of myself. As Urban Meyer would say, it's all about "Navy. Navy. Beat Na-vy."
3. The Loss of Braxton Miller Adds More Pressure to Running Backs – When it was announced Braxton Miller would out for the season with a shoulder injury, attention immediately turned to the expected replacement, redshirt freshman J.T. Barrett. The pressure is now on Barrett, but more importantly the running game. Many are expecting Meyer to employ a similar offense under Barrett as he did with Kenny Guiton last season, by throwing the ball off play action passing plays. In order to make this type of offense work successfully is a productive running game of course. As Barrett gets his feet wet and becomes comfortable in his new starting role, the running game will have to shoulder most of the burden on offense. And with the running game being relied on more often, that means at least "a pair and a spare" will be needed. Remember that term Jim Tressel famously coined? It was a great philosophy and is something Meyer will need this season, especially in the early games.
It will be interesting to see who's ultimately #2 and #3 on the running back's depth chart. True freshman Curtis Samuel has been praised plenty in the offseason by the coaching staff and will be getting look at in-game action immediately. The elder statesmen of the group, senior Rod Smith, will be one of the first Urban can turn to because of his experience and familiarity of the pressures of being a running back at Ohio State. Another running back to keep an eye on is the burly Bri'onte Dunn, who redshirted last season. Dunn is an ideal third down and short running back, along with being a good hand in a goal line situation. His power could also make him a good blocker out of the backfield. Long story, short the Buckeyes have plenty of options at running back. With the amount of competition at the position, I wouldn't worry too much about losing Carlos Hyde because the next Hyde could easily emerge from this talented group.