We finished up our ranking of the top twenty-five players in the B1G this season. We are Buckeye fans, of this there is no doubt, but we also tried to be subjective enough to rank the best players in the league. Yes, there were Buckeyes at the top of the list but that's simply because the Buckeyes are loaded with the best players in the conference this year.
We present to you now, our complete rankings from #25 to #1. (This post is going to be long and image and YT heavy, so hit the jump for the complete list)

#25 Andrew Norwell
Left guard Andrew Norwell comes in as our 25th player overall. I know what your thinking, typical the guard position isn't the sexiest of picks, but you'd be dead wrong:
Have you ever seen Norwell and The Big Show in the same place, at the same time?
Didn't think so.
Norwell is as steady as she goes and pretty much the definition of consistency on an offensive line loaded with talent and experience. Norwell anchored a Buckeye running game that finished an impressive 10th in the nation last year. Norwell has 25 starts in his career, 20 of which came at left guard. He's played more snaps last year than any other Buckeye, playing 862 snaps. Norwell played 98.8% of the offensive snaps last year as well and that lead the team.
The Big Show is the type of player that is extremely important to the team and his worth can rarely be measured. He is the type of player that will rarely be mentioned and that is typically a good thing when it comes to guards. You won't hear his name called on many holding penalties (cough, cough Marcus Hall) and you won't here his name called on many false start penalties (cough, cough J.B. Shugarts):
The 6'6, 310lb guard has not cut his hair since 2010 as he believes his hair is the source of his power. Big Ten defensive tackles have been working tirelessly to find a way to remove Norwells power and find a way into the Buckeye backfield:
Could they have found it?

#24 Chris Borland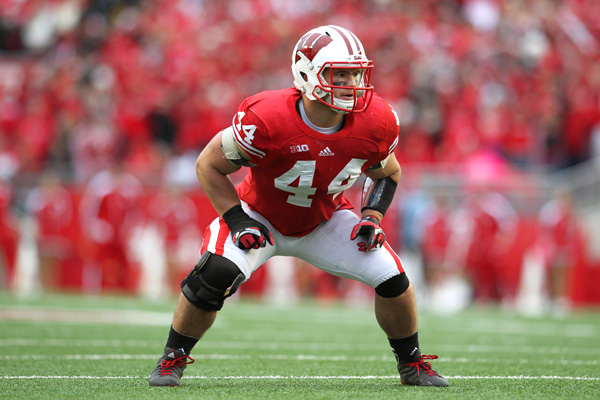 Wisconsin's Chris Borland has dealt with numerous injuries over his career but that has not stopped the 5"11 250 lbs linebacker from our own backyard in Kettering, Ohio from doing remarkable things in his career. He has been knocked by NFL scouts who say he is not tall enough or fast enough, but he continues to prove everyone wrong by constantly making plays and being dominant in the middle of the stingy badger defense. He has been arguably the best linebacker in the Big Ten for multiple years now when he has been healthy, however he seems to go unnoticed because his style is not the flashiest. Borland rarely plays out of position which is why he has always been the leader of their defense even since he was a freshman.
Here at MotSag we have Borland ranked at # 24 which I personally feel is very low, considering how he has excelled at everything his coaches have asked him to do in their scheme. To me there is no better-run stopper at linebacker in the Big Ten due to the fact he always fills the right hole and he is strong enough to disengage blocks from quite a few offensive lineman. He has a knack for punching the ball loose, in his career at Wisconsin he has forced a total of 13 fumbles, which is one shy of setting both a Big Ten and FBS record of 14 forced fumbles. Borland is on the Bednark watch list for the second straight season. He also finished with the honors of first team all Big Ten in 2012.
In 2009 Borland's freshman year he let the Big Ten know he was going to be a star and he was here to stay. While playing in every game he racked up 54 tackles causing 5 fumbles while he recovered 3 of those. Borland also intercepted a pass.
In 2010 he suffered a severe shoulder injury only allowing him to play in the first two games of the season. He received a medical redshirt that year.
Borland's redshirt sophomore year, which was 2011, he started all 14 games at middle linebacker. He totaled 143 tackles, caused 5 fumbles once again and hauled in 2 interceptions.
In 2012 his redshirt junior year he probably had his most consistent and memorable year. Borland had 104 tackles while starting all 12 games causing 3 fumbles and recovering all 3 of those as well.
#23 Max Bullough
The Spartans started last season ranked 13th in the nation in both the AP and Coaches Poll, presumably based on the strength of their defense and expectations for running back Le'Veon Bell with the only question being the status of quarterback following Kirk Cousin's departure. If in fact that was what the pollsters had in mind, they were spot on. The Spartans' ranked fourth in the nation in total defense at season's end and Bell finished the season with 1793 yards rushing and 12 touchdowns, while the offense was 110th nation in scoring offense (despite ranking third in the nation in time of possession per game). William Gholston was the emotional leader of the Spartans' defense last season, but he's left for the NFL (drafted in the fourth round by Tampa Bay). This year, it's up to last year's leader in tackles, Max Bullough, to take the reigns of the defense and lead it through a favorable conference schedule that dodges Ohio State, Penn State, and Wisconsin while facing the rival Wolverines at home.
Bullough was a first-team All Big Ten selection at linebacker last season and was sixth in the conference in tackles. Bullough is a middle linebacker who is ready to take over this defense and he has the bloodlines to do so as both his father (Shane) and uncle (Chuck) were Spartans middle linebackers and his grandfather (Hank) started it all by playing guard for the Spartans in the fifties. [Note: Max's younger brother Riley could be a two-way player (RB/LB) for the Spartans this season and even younger brother Byron is a linebacker commitment for 2014]
Spartans fans should be excited about their defense again this season and should look for Bullough to exceed his tackles total (110) from last year playing behind a solid defensive line led by Shilique Calhoun and a mostly veteran secondary led by Darqueze Dennard. Expect a Bullough-led Spartans defense to once again do its part in giving MSU a chance in every game behind the leadership and toughness of Bullough this season.
He's not the Big Ten linebacker with the most "upside", but don't be surprised if he's a first-team All Big Ten selection again.
#22 Darqueze Dennard
Number #22 on our Top 25 list of B1G players is senior Darqueze Dennard from the Michigan State Spartans. He's a 5'11" 188 pound cornerback.
As a junior, he played all 13 games and was selected as an All-Big Ten player, recording 52 tackles and 3 interceptions. What he brings to the team is a great blend of skills; he can play zone and man coverage, can break fast from the line of scrimmage, has impressive catch-up speed, and as an added feature, he can tackle.
He's on the watch list for the Bednarik Award, given to the top defensive player of the year and already has the eyes of at least one NFL team.
Keep your eyes peeled for this guy. I believe it's going to be a fun and exciting 2013 for this top-notch player.
#21 Shane Wynn
Shane Wynn is the smallest player in the B1G at 5'7″ and 163 lbs. But the tiny WR from Cleveland Glenville High School puts up giant numbers for the Indiana Hoosiers. He is a prime example of a guy who wasn't recruited by larger more more successful CFB programs and had to fight his way onto a B1G team. he was lucky that Kevin Wilson the HC at Indiana saw something special in the speedster. He offered him a scholarship and Wynn joined the 2011 recruiting class and right away proved his worth to Coach Wilson and the Indiana program. His Freshman year he spent most of his time on Kickoffs but was super successful at it. He saw some limited time at WR as well. His Sophomore year though he broke through as a full time WR and left the KO returns behind for the most part. Shane is in the perfect system for his talents. He is one of the fastest guys in the country and Coach Wilson uses that speed on quick slants and short passes that allows for Wynn to make a move and gain a lot of yards after the catch.
If Indiana is going to continue to improve on the field they will need Shane Wynn to be even better than he already has been. The Junior will also be relied on to be a leader on and off the field for a team that is still trying to build its brand and become a better program under Coach Wilson. Shane Wynn finished 2nd in the B1G in 2012 in total catches with 68 catches, 8th in total REC. yards with 660 rec. yards, 6th in REC. TDs with 6 TDs, 2nd in receptions per game with 5.6, and 8th in rec yards a game with 54 ypg. In order for Indiana to improve on their 4-8 mark from 2012 he will have to get better at every stat which we at Motsag believe he will.
You can follow Shane Wynn on twitter by clicking on his twitter name @SHANEWYNN4.
Shane Wynn's career numbers….
2011 Freshman season- Shane Wynn had 19 catches and 197 yards receiving and 0 TDs. He also had 6 rushes for 37 yards. He had 48 kickoff returns for 1018 yards and 1 TD a 99 yard KO return for a TD.
2012 Sophomore season- Shane Wynn had 68 catches and 660 yards and 6 TDs. He also had 3 rushes for 35 yards. he also had 8 KO returns for 180 yards and no TDs.
Below you can see a few of his highlights and see just how his speed helps him make this list…
and
#20 Mark Weisman
Mark is going into his Junior season at Iowa playing at the fullback position. He ranked 9th in the BIG Ten in rushing yards per game. In his 2012 season he rushed for 815 yards. Mark showed throughout the 2012 season that he can go off anytime in any game and rush for a large amount of yards. He is going to be the key for Iowa's success on offense.
Mark emerged in the 2012 season. Many Iowa fans did not know Mark would make such a huge contribution to the Iowa offense. His first start at tail back was against Central Michigan when he ran for over 200 yards. This opened many eyes.
Here is a nice piece on Mark:

It will be interesting to see how Mark does in the upcoming season for the Hawkeyes. He will be an offense threat to every team the Hawkeyes play.
#19 Jeremy Gallon
Jeremy Gallon is a red shirt senior that plays wide receiver and is a return specialist for Michigan. He was a 2012 All-Big Ten Honorable Mention selection. Jeremy is from Apopka, Florida. He is majoring in general studies. Gallon was a four star prospect and the number eleven wide receiver according to Rivals.com. Also, Rivals rated him as the fifth-best athlete because of his good ball skills. Coming back into his senior year, Jeremy is planning on having a standout year. He was much experience with the team which makes him very valuable for the offense and special teams.
In his 2012 season, Jeremy had 829 receiving yards coming off of 49 receptions. Jeremy is also going to have a big leadership role for Michigan this season. Being a redshirt senior shows that he was much experience with the team. He should be able to help the Michigan offense a great deal. Him and Garnder will have good chemistry this season. Without Denard, Michigan needs someone to produce key plays. As a return specialist and a wide receiver Jeremy can do that.
Here is highlights from the Alabama game:

Jeremy is going to be the key receiver for Michigan this upcoming season. Which means that he is going to be a key matchup against solid corners in the BIG Ten. Michigan's offense is going to heavily determined through Jeremy's success. It is going to be interesting to see what Jeremy will show this upcoming season.
#18 Zach Zwinak
Zach Zwinak (RB/FB) is heading into his senior year at Penn State. He is from Frederick, Maryland. As a high school recruit, Zach was offered from many schools such as Ohio State, Michigan, Wisconsin, Maryland, Virginia Tech, Boston College and more. He was ranked the number one fullback by Scout.com. Zach also was given four stars from Scout and Rivals. There is no doubt his breakout year was the 2012 season.
Zach is going to be a huge factor for Penn State's offense. With a competition for a starting quarterback, it is nice for the Penn State offense to have a steady running back. In his 2012 season, he ran for 1000 yards off of 203 attempts. Considering the fact that Zach only ran for 7 yards last year, Zach had a breakout year this past season. He is going to be the leader and the biggest contributor for the Penn State Offense.
Short highlights on Zach:

With all the controversy that happened at Penn State, it is hard not to show respect to the Penn State players for competing every game without a chance to make a bowl. Watching Zach throughout the season, he played every game with determination. It is going to be interesting to watch the Penn State offense with a new quarterback and a very experienced half back coming into this season.
#17 Jack Mewhort
Jack Mewhort is rolling into a senior year, which means he is going to be a leader of the offensive line. He has started at left guard, right guard and left tackle so he is a versatile player. He is 6'7 and 308 lbs. Jack is going to have a big role for Ohio State's offense. All of the backs, especially Carlos Hyde are going to need him to open up some holes for them.
A lot of thoughts are going around on where the Buckeye's will get their leadership from. Mewhort is a leader for this team. In fact, Mewhort is named a captain for the upcoming season. The offensive line is going to revolve around Jack Mewhort who will be the starting left tackle.
Jack will also have a big rule in pass blocking for Heisman hopeful Braxton Miller. Without Jack's skills on the line Braxton will not be able to perform the way he does. It will be exciting to see the contributions and leadership Mewhort is going to provide OSU.
#16 Ricardo Allen
Ricardo Allen is a top cornerback for Purdue. He is a senior and is from Daytona Beach, Florida. Currently, he is rated 21 of 100 CBs from www.nfldraftscout.com. Clearly, he is gaining NFL exposure. He is expected to have a dominant senior season.
Despite his height, he enjoys the challenge on playing against the opponents' best receiver. In total, he has 164 tackles, 118 solo tackles, 6.5 tackles for loss, 6 interceptions, and 14 passes deflected. With those stats rising he is a top CB prospect for the NFL next year. He will be the leader of the Purdue defense.
Here is a video to show his freshman and sophomore highlights. Clearly, he gets to the ball quickly to make tackles. He is also great at shedding blocks to get to the ball. He has good ball instincts and plays with tons of energy.
#15 Kenny Bell
#80 Kenny Bell
School: Nebraska
Position: Wide Receiver
Class: Junior
Hometown: Boulder, Colorado
Height: 6-1
Weight: 185 lbs.
Why He's Important to Nebraska's Success: Kenny Bell is one of the most dynamic wide receivers in the Big 10 and can give a defense fits. Combined with quarterback Taylor Martinez and running back Ameer Abdullah, this trio makes up one of the most potent offenses in the Big 10. Since he's surrounded by two other offensive threats, Bell becomes an even more dangerous player.
Bell has been the leading receiver for the Cornhuskers the last two seasons, leading the team in receiving yards, receptions and touchdown catches. In 2011, Bell caught 32 passes for 461 yards and three touchdown passes. He also ran the ball three times for 100 yards and one touchdown. Last season, Bell had a breakout year and established himself as one of the best receivers in the Big 10. Bell had 50 receptions with 863 receiving yards and eight touchdowns. Bell was fifth in the Big 10 in receiving yards per game.
Career Highlight
Also one more thing about Bell: He's a damn good blocker! In fact, the NCAA recently announced they're cracking down more on hitting defenseless players above the shoulders this season, largely because of hits like Bell made on a Wisconsin player in the Big 10 Championship last season. Nebraska fans refer to it as the "Kenny Bell Rule."
Take a look at this spectacular hit below (the great Gus Johnson with the call). I care about the player's safety, but how could you not love this block?
How Bell Stacks Up Against His Competition
As I mentioned, Bell is one of the best receivers in the Big 10. Phil Steele named him to his 2013 Preseason All-Big 10 1st team. In 2012, he was named 1st team All-Big Ten by the Big Ten Network, Phil Steele, ESPN and CBS. Big 10 coaches and media named him second-team All-Big Ten in 2012.
Bell's two best games in 2012 were against Minnesota and the Buckeyes. Against the Golden Gophers, Bell had nine catches for 136 yards and two touchdowns (expected when going against the Minnesota defense). I obviously saw him play against the Buckeye defense last fall and I was impressed by his play. He caught the ball five times for 133 yards. Credit the Buckeye defense for harassing Martinez enough to prevent him from hooking up with his star receiver for a touchdown (3 interceptions).
Why Bell is Ranked No. 15?
I consider Bell to be the third best wide receiver in the Big 10, trailing only Penn State's Allen Robinson and Wisconsin's Jared Abbredaris. The reason I consider him only the third best is because he seemed inconsistent at times last season, especially in the latter half of the season. After his great performance against the Buckeyes, he had two solid games against Northwestern and the school up north. Then he combined for only 62 receiving yards against Michigan State and Penn State. After he destroyed Minnesota's defense, Bell sat out with an injury against Iowa and only managed 14 receiving yards against Wisconsin. Bell needs to prove he can be consistent throughout the grind of the Big 10 season and against good defenses. Bell seems to have no problem doing well against inferior defenses, but needs to do well against worthy opponents to be considered the best in the Big 10. He also needs to show that last season wasn't a fluke and that it really was his coming out party. Bell is only a junior this season, so there is definitely room for improvement. It wouldn't surprise me at all if Bell stepped his game up even more this season and established himself as the best receiver in the Big 10.
#14 Devin Gardner
Devin Gardner Jr. Quarterback University of Michigan
Devin officially takes over being the starting qb of the Wolverines this year. Having started the final 5 games for the Maize and Blue last year for an injured Denard Robinson, Gardner inherits the full time leadership role due to Robinson's departure. Gardner changed the dynamics of Michigan's offense running Brady Hoke's pro style offense. While Robinson was pretty much a pure running QB Gardner is a dual threat but more of a passer.
Devin showed in the final five games he has a strong arm, completing 75 passes out of 126 attempts,passing for 1,219 yards and accounting for 22 touchdowns (threw for 11 td's). Giving him a QB Rating of 161.7 percent averaging 243.8 yards passing a game. He also threw 5 INTS one in each contest. Gardner only ran for 100 yards in those 5 games averaging 2.1 yards per carry. If he played in all 13 games he would have had over 3000 yards passing easily.
Gardner is projected as the third best quarterback in the B1G behind Ohio State's Braxton Miller and Nebraska's Taylor Martinez. Devin is going to be facing a tougher B1G schedule than those two QB's. Having to face 5 of the B1G's projected top secondaries out of his 8 conference games. Miller and Martinez only have 2 match-ups against those same projections.
Devin Gardner is going to be the key to Michigan's chances of being a championship caliber team as he states they are. His touchdown/interception ratio for the five games he started were good being 11/5 but he has a problem holding on to the football. He showed last season against Ohio State's defense, which should be better, he struggled only throwing (season lows) for 171 yards, one touchdown, and one interception. If Devin cuts down on his turnovers he could be inserting his name into the Heisman talk. He is lucky in having his LT Taylor Lewan (one of the best in the NCAA) coming back to protect his blind side.
Devin Gardner's best College Game:

#13 Venric Mark
So who is Venric Mark?
Venric is a shifty little tailback/punt returner that burst on the scene last year after a couple electrifying games. Specifically, in his first career start, he took Syracuse out behind the woodshed, setting a school record with 134 punt return yards, including an 82-yard punt return (don't watch the rest of that Marknado video, it will scar you for life) for a touchdown that was NU's first punt return TD since forever (2005). No big deal, he just amassed a mere 281 all-purpose yards, rushing for 82 yards tacking on a a 21-yard touchdown pass.
More electricity? He did this to Penn State, this to Iowa and then treated Michigan like the red-headed step child it most certainly is, gashing them for 260 all-purpose yards (104 rushing, 156 return yards) and a TD. He led the Big Ten in all-purpose yardage with 166.6 yards per game. That was also enough to rank 12th in the country in that category.
Great, so what's a guy like him playing with a bunch of nerds at Northwestern? Venric was considered a 2-3 star by most recruiting services, and he attracted a little attention from a few bigger schools and a lot of mid-range schools. He was initially recruited to play a slot receiver and as a punt returner. He decided to go Northwestern over, among other teams, Iowa State, Vanderbilt and Arizona. He put on a little weight and has become the featured back in Northwestern's spread attack.
So while Mark is listed at 5-foot-8 and 175 pounds he certainly doesn't play that small. He isn't afraid to mix it up with the big boys in the middle and he'll get to the corner just as easily. Throw in a soft pair of hands and his return skills and you've got an extremely dangerous player. Break away speed and moves to spare. Oh, and he once played linebacker in 2011 against Michigan to mirror Denard Robinson.
Northwestern is poised for another year, some calling it their break-out year. Between Mark and the soon-to-be-discussed two-headed monster at QB, Northwestern has the potential to make a lot of noise this year in the B1G, starting with their conference home opener against the Buckeyes on October 5th.
#12 Jared Abbrederis
Jared Abbrederis is a talented, playmaking WR for the Wisconsin Badgers. The 6'2, 188lber is headed into his redshirt senior season where he hopes to continue to lead the Badgers in pass catching productivity like he's done the two previous seasons.
Pictured above, Abbrederis is powering Bret Bielema's diabetes monitor using state of the art Wisconsin Badger science.
God, I hate Wisconsin.
Anyway…
Abbrederis has 124 catches, 2059 yards receiving, averages 16.6 yards per catch and 16 receiving TD's. He is also a treat on kick and punt returns and also carries the ball on occasion with success. He even through a pass last year and completed it. The guy does it all. In his career he has accounted for 3551 total yards. The guy is a stud and needs to be accounted for at all times. His honors include: All Big Ten Honorable Mention (2010), Honorable Mention All-American as a punt returner (2011), All Big Ten Honorable Mention (2011) and First Team All Big Ten (2012).
Jared Abbrederis Video:
#11 Ameer Abdullah
In the first half of Nebraska's opening game of 2012, starting running back Rex Burkhead went down with an MCL sprain, inspiring a collective groan from Husker faithful that could surely be heard all the way in… I don't know, Omaha or something. Burkhead was primed for a huge senior season after racking up just over 2300 yards in 2010 and 2011. His backup was an inexperienced sophomore who was impressive returning kicks but had rarely notched more than a handful of carries in meaningful game situations.
Fortunately for Nebraska, their worries were erased immediately. Abduallah averaged 5.4 yards a carry in finishing out that first game and added nearly 300 more and two scores in the next two before Burkhead's return. That wasn't it for Ameer in 2012 though, as Burkhead would miss four more starts after re-aggravating the sprain. Abdullah topped 100 yards in each game that Burkhead missed. All told, he ran for 1137 yards on 226 carries (5.03 average) and for all intents and purposes was the primary back for the Huskers last year, landing on the Big Ten Coaches' 2nd team and earning an honorable mention from the Big Ten media.
In watching Abdullah's highlights, I noticed that he has a burst that he seems to like to turn on after first contact (something he likely developed through returning kicks) that makes him a very scary back. You'll see it in the video below, particularly against Michigan and UCLA:
I would expect Adbullah to get close to 300 carries this year, taking some pressure off of Taylor Martinez. It would not surprise me if he turned in 1600 yards or better in 2013.
#10 Trevor Siemian/Kain Colter
Northwestern returns in 2013 with its unusually successful tandem quarterback team of redshirt junior Trevor Siemian and senior starter Kain Colter. The combination idea is not new to Northwestern who had employed it with Colter and Dan Persa. Still, the use in 2012 was initiated by Colter himself who told coach's he was banged up so
much toward the end of last year's game at Syracuse that back-up Siemian would give the Cats the best chance to win. Siemian responded with a game winning drive. The success kept coming as Northwestern rolled to a 10-3 finish including a 34-20 New Year's Day bowl victory over Mississippi State.
Offense was the key driver of Northwestern's success as they finished third in the B1G in scoring offense and fifth in overall offense. And while Siemien is regarded as the better passer (finishing, as a part time player, tenth in yards per game and total yards), Colter acquitted himself nicely, actually finishing seventh passing efficiency—above Siemian. Both those statistics are driven to some extent
by the fact that Siemian is the first option in obvious passing situations—so you would expect his total passing yards to get a boost while Colter's efficiency is aided by the fact that his passing occurs when the defense is not looking pass first, but still, the Wildcats have to be pleased that either is an effective passer. If you were to combine their stats they presented a 2012 profile that was very similar to, if not slightly better than Iowa's James Vandenberg, though each had a higher QB rating and Colter's was actually among the best of the B1G.
Still passing needs to catch up to the Cats' running game—which looks to be even better in 2013—if they are to improve on last year's showing (which saw late game lasses to Penn State, Nebraska and Michigan). The schedule in 2013 includes Ohio State, Wisconsin and a trip to Cal. To make things even more difficult, Northwestern will have to replace a number of offensive linemen lost to graduation.
The intangible that makes the Northwestern quarterback duo so appealing—in addition to its relative success, is that when a team has a successful dual quarterbacking approach, it has a greater degree of insulation from severe drop-off if there is an injury. While Northwestern may have to change its game plan if there is an injury, it is only a situational adjustment, both run the read option well and both handle most aspects of the offense proficiently. If this quarterback tandem can step in up in passing proficiency—which if it happens, means the O line will have also stabilized—the Northwestern Wildcats, with upgraded facilities and a hopeful future, could become a force in the Legends division in 2013.
#9 James White
As we get into the top ten players we come across a guy who is 21st on his school's all-time rushing yards list (less than 300 yards away from jumping to 12th) despite having played behind two players in the top eight. He led his team in rushing yards his freshman season, but has never done so again, and has never led the team in carries. If you guessed Wisconsin senior running back James White, great job! During White's freshman season, he was a part of a remarkable rushing display by the Badgers in which they were four yards away from having three backs cross the 1000-yard threshold. He played behind John Clay (8th all-time) and Montee Ball (2nd all-time), yet had more yards than both of them that season averaging an impressive 6.74 yards per carry! This is the first season in which White will be the top-tier back as Ball left for the NFL (2nd round to the Broncos) after breaking the FBS records for both rushing touchdowns and total touchdowns in a career.
Unfortunately for White, his head coach Bret Bielema, who was a strong proponent of the running game, left to coach at Arkansas. In comes Gary Anderson from Utah State as Bielema's successor and White now faces his second consecutive season with a new set of position coaches. Badgers fans should find some comfort in the fact that Anderson ran the ball more than he passed it last season with the Aggies (473 vs. 420) and that running back Kerwynn Williams ran the ball over 200 times. White also lost two of his offensive linemen to the NFL (Travis Frederick, C, 1st round, Cowboys; Ricky Wagner, OT, 5th round, Ravens), however, Bielema has always done a great job at stockpiling talent on the line.
The schedule that White and the Badgers face this season could help in White having a strong season. They avoid playing the defenses of Michigan and Michigan State (unfortunately, perhaps, they also avoid the team against which they rushed for 539 yards last season: Nebraska) and get BYU and Penn State at home. Visits to Arizona State and Ohio State could pose problems to the running game because there's a decent chance they could be playing from behind early in both game. On the other hand, the Badgers' deficiency in the passing game may force Anderson to try to turn to the running game regardless. White averaged an unbelieveable 17.60 yards on third down season and a whopping 27.67 yards on third down with 10+ to go so Anderson shouldn't be scared to hand him the ball in nearly any situation.
Instead of following the trend that has swept college football over the past several years in which players transfer when they don't win the starting job immediately, White made an impact as a freshman despite being third of the depth chart and now, as a senior, gets his chance to prove what he can do. He won't have to do it alone. Melvin Gordon made a name for himself as a freshman last year rushing for 602 yards and averaging 10 yards per carry. Badger Nation should be excited about the running game yet again this season led by James White who should easily break the 1500-yard mark. If they can get any production from their quarterbacks (to keep defenses from constantly loading the box) the Badgers could even make a run at a 9 or 10 win season. I think Anderson may turn to junior college transfer Tanner McEvoy, but we'll have to see about that.
#8 Carlos Hyde
Carlos Hyde comes into 2013 as a senior on your beloved Buckeyes. He has become a punishing running back and a force to be reckoned with in the backfield. He comes off the 2012 seson just 30 yards shy of reaching the benchmark level of 1,000. He's hoping that this season he becomes the first running back under Meyer's instruction to reach said level. The closest player to reach 1000 yards under Meyer was Brandon Warfield in 2003 when Meyer was coaching at Utah.
In 2012, he led the Big Ten conference in scoring and touchdown scoring and was named All-Big Ten second team. He also received honors from Ohio State by receiving the Rex Kern award for outstanding offensive player from his efforts in the Michigan, Illinois, and Nebraska games.
He brings a tremendous level of maturity to the offense side of the ball as well an outstanding level of leadership, which should help bring Dunn and Ball up to speed.
I don't know about you, but I'll be setting up a dry erase board with the number "1000" in big digits and will be counting down every game. Hopefully, we'll see it accomplished by game 10.
Update: A little while back, Carlos Hyde seemed to get himself in a little bit of trouble at a night club. Many rumors swirled around as to whether or not he did what he was accused of doing until the CPD released the video from the night club. After the dust settled, Mr. Hyde was cleared of assault charges after the video showed him not striking the woman. But Coach Meyer had different plans for him. The coach has benched him for three games "for conduct not representative of this football program or this university," Meyer said in a statement released by the school.
#7 Jake Ryan
#47 Jake Ryan
School: The School Up North
Position: Linebacker
Class: Redshirt Junior
Hometown: Westlake, Ohio
Height: 6-3
Weight: 242 lbs.
Why He's Important to the School Up North's Success: Ryan is the best defender on the entire Wolverine roster and one of the best in the Big 10. He can be an absolute nightmare for quarterbacks and offensive linemen. Jake Ryan was one of few the good players who slipped out of Ohio and decided to play for the school up north (with Urban around this will not be the norm).
During the 2012 season, Ryan racked up 88 tackles (21st in the league) and 16 tackles for loss. Ryan also had 5.0 sacks and 5 forced fumbles. In terms of how his stats ranked in the Big 10, he was third overall in total tackles for loss. He also led the league in fumbles forced per game.
Most importantly Ryan is one of only five returning starters for the Wolverine defense and his presence (or lack thereof) will certainly make an impact on their season.
Career Highlight:
In terms of Ryan's big career moment, I would say his 22 yard tackle for loss against Virginia Tech in the 2012 Sugar Bowl would be it. Take a look below:
How Ryan Stacks Up Against His Competition
Ryan is one of the best linebackers in the Big 10, right with Ryan Shazier and Max Bullough of Michigan State. Unfortunately for Ryan, many people tend to overlook his talent and he seems to be forgotten about. This was evident when Big 10 coaches and media revealed their 2012 All-Big 10 teams. The coaches didn't name him to the first or second team, only garnering an honorable mention. The media named him to the second team. (Side note: That was some of the worst voting I have ever seen. It was certainly politics at its finest. Several players from several teams got screwed.)
Ryan did not make any preseason All-Big 10 teams this year. This isn't because he's being looked over again. Ryan suffered a torn ACL during practice in March and was originally ruled out indefinitely. Coach Brady 'Walrus' Hoke has since came out and said Ryan could return as soon as the middle of October. It would certainly be ideal for the Wolverines because it would be the beginning of a brutal stretch on the schedule (Michigan State, Nebraska, Northwestern and Ohio State). I'm sure Wolverine fans everywhere are crossing their fingers Ryan makes a return this season. Meanwhile, all of us in Buckeye nation will hope Ryan takes all of the time in the world to heal.
Why is Ryan Ranked (Only) No. 7?
It's basically for the two reasons that I have already been mentioned above: overlooked and injured. If Ryan was fully healthy he would've probably been first team All-Big 10 and would've made a few awards' watch lists. While he was overlooked by many last season, I don't think that would've been the case this season. This injury will continue to cause him to be 'under the radar' to the average fan. While I feel bad he suffered a serious injury, I also remind myself he plays for the main enemy. If Ryan Shazier suffered a similar injury, their fans wouldn't be shedding any tears either.
While Ryan is slated to return in October, don't be surprised if you wouldn't see him on the field at all this season. He suffered a serious injury and it's uncommon to recover from this type of injury so quickly. If Ryan somehow returns this season, don't overlook him like everyone else has in the past. I know quarterbacks around the Big 10 haven't and won't overlook his talents.
#6 Allen Robinson
Allen Robinson Jr WR Penn State
Penn State wasn't suppose to be any good after the sanctions were handed down. Players were allowed to transfer without penalty of having to sit out a year. Not MotSaG's Number 6 player in our B1G Top 25, a receiver that only had 3 receptions for 29 yards and zero touchdowns.
Allen Robinson, a tall target at 6ft 4in, had a break out season in 2012. Under Bill O'Brien's pro style offense he has flourished. Robinson was a key weapon that helped Penn State finish ranked 2nd for passing and touchdowns in the B1G last season. He lead the Big Ten with 77 receptions and 1,021 yards receiving, having 9 receptions and 200 yards better than any other player in the confrence, also hauling in 11 touchdown catches.
Robinson is going to be only 1 of 7 returning receivers in the NCAA with 1,000 yards catching, 10 plus touchdowns, and over 75 receptions. He is a fast wide receiver with the skills of great hands, crisp and precise route running. During the off season Allen has added 10 pounds of muscle and has worked even more on his route running.
Allen has put himself on the national stage as one of the best not only in the B1G but in the NCAA.
The only down side to Robinson might be the added attention from opponents secondary and not knowing who the starting QB is this year. Being one of 8 starters on offense and in the second year under Bill O'Brien, Allen is poised to take on the leadership role and help out his QB whoever that may be. It'll help that Penn State only has to face 2 of the top 5 B1G secondaries this year possibly allowing Robinson to roam free and put up great numbers again in 2013.
#5 Taylor Lewan
Taylor Lewan comes in at #5 on your countdown (best Casey Kasem impression here) and it could have been higher if it weren't for this:
Granted, Clowney has done that to many a left tackle…but it's still funny.
Talyor Lewan is an award winning left tackle for the Michigan Wolverines. In my opinion and the opinions of many, many other know-it-all unprofessional bloggers around the Universe the left tackle position is the second most important behind quarterback. This is because the left tackle protects the blind side of the quarterback — or attempting to keep the Jadeveon Clowney's of the world from removing helmets/heads/pride of said QB. Let's listen to Sandra Bullock use a her best non-racist Paula Deen accent as she explains the importance of the left tackle:
Magical, isn't it?
Taylor Lewan is resposnible for protecting Devin Garner, Michigans quarterback in 2013. Lewan has started games in all three of his previous season and has won a ton of hardware. Second-team Freshman All-American, Freshman All Big Ten (2010), Honorable Mention All American (2011), Rimington-Pace Offensive Lineman of the Year (2012) and First-team All-American (2012). He's played in three bowl games and helped bring Michigan back to respectability. Lewan made the difficult decision to stay in school rather than jump to the NFL for millions of dollars. There are many that thought he was a shoe-in to be a top ten pick. He did the admirable thing and stayed in school to persue his degree in Kinesiology which of course is the study of old wooden ships — or something.
Lewan is listed at 6'8, 308lbs but is very agile and quick for such a big man. He is able to get down field on screen passes, reverses and handle defenders in space. He is at times struggled with dealing with blitz pickups coming from the inside. The bottom line is he is every quarterbacks best friend and a nightmare for defensive lineman and linebackers to deal with. He wears #77 which is typically given to the best of Michigans offensive lineman. He will not only protect Devin Garners blindside, but clear running lanes for the Wolverines stable of talented young running backs.
I look forward to Noah Spence and Adolphus Washington lining up against him in the season to come.
Lewan vs. Jadeveon Clowney:
#4 Ryan Shazier
Ryan Shazier comes in at Number Four in our Best of the B1G list. Ryan Shazier, outside linebacker for the Ohio State Buckeyes brings athleticism and a ballhawking mentality to the Ohio State defense. Ryan, a 6'2″ 222 pound junior will anchor Ohio State's front seven, bringing the most game time experience and big play making ability to the unit. He averaged 9.7 tackles per game and accounted for five sacks, three forced fumbles, and one interception last season. He was All-Big Ten and an honorable mention All-American in 2012 and has been named to the All-American First Team by SI.com. He is key to Ohio State's success and has had two seasons of success under his belt with pressure to mirror his past accomplishments.
Ryan's 2012 season seemed to start off slow. Not very "Shazier" like. While he did have double-digit tackles against UAB and Cal, he seemed out of sync. Unfocused. Overrunning plays (ahem), missing tackles (ahem) and simply finding himself out of place more often than not.
But that's what you get with Shazier. He's going to give you spectacular hits and you're going to have moments of mental lapses. You take the good with the bad, because the good is VERY good and the bad can sometimes be covered up by the other ten players on the team. This was specifically manifest when Zach Boren moved over to LB. Boren's move into the middle took some of the pressure of Shazier. He no longer had to compensate for the lack of a play maker in the middle of the field and was able to roam with a little more freedom and make big plays.
Shazier played well and had his way with Nebraska but his real defining moment was against Penn State. A friend of Ryan's lost his life and Shazier donned the #48 in his honor and went out and played out of his mind. Two huge sacks, an interception for a touchdown and his position as one of the best playmakers was cemented.
Technique and finesse are not his strong points. Shazier is at his best when he is able to rely more on physical abilities than mental ones. Shazier is no dummy. He can fulfill his assingments, be where he needs to be when he needs to be there but when he's able to play with reckless abandon, he is going to hurt someone. But it's also a testament to this coaching staff that Shazier showed steady improvement over the course of the season. His discipline was markedly sharper and he was in his spots and making plays where he should.
And when the time comes, he's there to make plays that become defining moments of the 2012 season.
He is, hands down, the best linebacker in the Big Ten. If he continues his upward improvement and plays like he should he will also be one of the best linebackers in all of college football.
#3 Bradley Roby
Bradley Roby is not the biggest Cornerback in the country at 5'11" and 192 lbs but what the RS JR CB from Suwanee, GA lacks in size he makes up for in insanely impressive speed and skills. Bradley Roby has been one of the best CBs in the country let alone B1G the past 2 years and is predicted to be a finalist for the Thorpe Award (Best DB in the country) and the Bednarik Award and Nagurski Award (Best Defensive players). Bradley Roby is also predicted to be the no 1 CB taken in the NFL draft if he decides to leave early after his RS Jr. season and will for sure be a 1st rounder. he is a shut down CB who is avoided for the most part by opponents. When opposing QBs do attempt to throw his way more times than not he is able to break up the pass or intercept it.
There has been one hiccup in what could be Roby's last year at OSU. He was recently arrested at a bar in Bloomington, Indiana. That case as of today still hasn't been finalized and no word about possible suspension or other punishments. As soon as we know more we will share with our readers.
Bradley Roby led the nation in Passes defended per game at 1.73 pg. He was tied for 3rd with total passes broken up with 17. He also tied for 7th with 19 total passes defended. He is also the fastest player on the Buckeye team with a 4.29 40 yard dash. He has great recovery speed that allows him to catch up to WRs if they make a good first move on him. His feet are top notch and all of those things are what makes Bradley Roby not only the best CB in the B1G but in my opinion the country. He has a real instinct for the ball and knows how to make plays and does so often especially when the team needs him to the most in critical games.he also is a lead attacker on Punt blocks and kicks and had one block last season. he also has helped on KO and Punt returns. He is a leader on the team and will do anything asked of him to help the team. For us here at Motsag tere isn't a better CB in the B1G and barely any better players overall than Bradley Roby and that is why he is ranked no. 3 on our top 25 list. it can be argued he is worthy of the top spot and by seasons end he may very well be there.
Bradley Roby's career stats….
RS Freshman stats- He played in 13 games and had 37 solo tackles and 10 asst tackles for 47 total tackles, He also had 4 TFL for -23 yards and 1 forced fumble, He also had 6 passes defended and 3 INTs for 57 yards.
RS Sophomore stats- He played in 11 games and had 41 solo tackles and 22 asst tackles for 63 total tackles, He also had 1 sack for -11 yards, 2 TFLs for -13 yards, 1 fumble recovery, 17 passes defended, and 2 INTs for 49 yards.
You can follow Bradley Roby on twitter by clicking his twitter name @BradRoby_1.
You can view his Sophomore year highlights below…
#2 Taylor Martinez
Taylor Martinez is still in school.
Having been the Huskers starting QB since his redshirt freshman season, Martinez brings something to the table few others in the Big Ten can: experience on top of experience. Martinez took a step forward last year, completing 62% of his passes and earning a 141.6 passer rating and a first team nod from the Big Ten coaches, after stumbling a bit in 2011 (in part due to the challenge of switching conferences). This is important, because most people don't think of Martinez as a passer, instead focusing on his Craig-Krenzel-but-agile running ability that can lead to big plays.
While this is an important part of his game, the presence of Ameer Abdullah will shift much of the rushing load off of Martinez. This can only mean good things for the senior quarterback, as an added threat out of the backfield will open up big opportunities for the passing game, where the Huskers return their top three receivers from 2012.
Behind an experienced offensive line, look for Martinez to direct an efficient and explosive offense in 2013.
#1 Braxton Miller
The returning B1G Offensive Player of the Year promises frightening new potential in Urban Meyer's second year. A very early Heisman favorite, Braxton Miller will have several advantages this year that he did not have last year, including experience, continuing improved passing and a second year in Urban's system. However, the strongest new development is the emergence of the receiving corps which for the two years prior was the Achilles heal of the offense. After the 2011 tat-gate suspensions deprived the offense of its only experienced receiver DeVier Posey, the offense has had to struggle with young receivers not yet strong enough to separate themselves with frequency.
That has all changed now. Not only does Braxton have a strong group of hardened veterans, but a strong recruiting class, highlighted by what should be the immediate impact of JUCO signee Corey Smith and playmakers Dontre Wilson, Jalin Marshall and James Clark. Also, not to be overlooked is the prospect of a healthy Jordan Hall catching passes out of the backfield alongside the power of Carlos Hyde. And we have not even gotten to tight end where Nick Vannett and Jeff Heuerman promise to be as robust as any unit. If I had to pick a surprise bust out darkhorse, I would go with junior Evan Spencer who has all the athleticism, strength and now experience to be a guy who can make a big play. But if you want to make an impact in this group, Evan you better start early.
One group that Braxton does not have to worry about is the offensive line. Replacing Reid Fragel will not be easy but there are several strong contenders and the unit, which was strong to begin with, is otherwise intact.
Funny how you can talk about Braxton's potential and how great it looks by spending so much time on others before getting to Braxton himself. For the record, in 2012, Ohio State led the B1G in scoring offense and was third in total offense. The Buckeyes were also second in passing efficiency, rushing offense and red zone conversions. But they were eighth in passing offense, and Braxton was 7th in YPG. Braxton himself was second in overall offense and fourth in rushing but only the seventh leading passer.
The point is, Braxton has carved out his success largely by himself, that is mostly with his feet. He had no choice really, with such an inexperienced receiving corps and with banged up running backs. So the prospect of a Braxton Miller sitting in the middle of many other explosive weapons is tantalizing indeed. But from a different perspective, it was kind of like he has been strafing, with deadly precision, the B1G in a WWII Mustang fighter. Now it looks like he will be dropped in to seize the controls of a jet fighter. Perhaps that is a challenge in itself–it remains to be seen whether he can pull all the right levers with so many potential options, but given the experience he now has, one has to like his odds.
who said
, "Braxton has one of the biggest arms in college football. "I know people see his speed and his playmaking ability. But I am talking about, he's got rare, rare arm talent." The Spring Game obviously has been the only opportunity to view Braxton since working with Whitfield, but the results, admittedly limited,
were all thumbs up
. And of course, Ohio State is blessed with a very capable backup in fan favorite Kenny Guiton. So Ohio State fans can expect to buckle up and enjoy the ride–it promises to be a blast.