Exactly 12 days before the game at Virginia Tech, controversy struck. As the media walked in to do their interviews, they witnessed a team that was out of the norm. There was no dancing like normal, the guys were quiet and the environment was strange. The interviews scheduled were cancelled shortly after they arrived. Something was wrong.
Rising star, and the most improved player on the team, who was "unguardable" at times during camp was injured. Noah Brown, true sophomore, who many had pegged to be a breakout star, broke his leg and was instantly ruled out for the season.
Fast forward to the 5th game of the season at Indiana. Corey Smith was blocking on the edge, and got hit from behind. He suffered a similar injury as Noah Brown, and is, of course, out for the season. "But my heart bleeds for that guy… He was on all special teams for us, played really, really hard." said Coach Urban Meyer.
Although Corey hadn't quite lived up to the potential and hype many people had placed on him, he was the type of player you want on your team. Like Urban said, he was a do-it-all type of guy. Corey was also looking to fill a certain void this team desperately needs. According to Urban, Corey was one of two guys that was going to be used to help replace the deep threat that Devin Smith took to the NFL.
After being considered one of, if not the deepest units on the team before the season, many people are concerned with the potential lack of depth at Wide Receiver. With the loss of Corey and Noah, people have questioned if the team has enough true wide receivers to be successful moving down the road. And with that concern of lack of true wide receivers, comes concern with perhaps even more trouble blocking on the outside.
Firstly, I don't think depth at WR is as big of a problem as people are thinking. It's certainly different circumstances, but while missing Noah Brown, Corey Smith, Dontre Wilson, and Jalin Marshall in the first game of the season against the best defense the team has faced so far, the team put up the most points they've had all season (42). Also, this team has so many viable weapons at WR that Ohio State ended up putting an extra WR position on the depth chart; making 12 positions on offense.
Below, and on the left is a picture of the depth chart for this upcoming game against Maryland. On the right is a depth chart heading into the Penn State game last year. Last year, the team only listed 7 wide receivers on offense. This year, as you can see, they list a total of 10 wide receivers. 3 players is a huge difference when speaking in terms of depth. And, even with those ten listed, they don't have true freshmen K.J. Hill or Torrance Gibson
"K.J. (Hill), he certainly has earned a right to mix in there a little bit, but we're not sure we're going to do that yet. He had a little injury too, but he's fine now. You wish you'd play more, but right now we've got a little bit of depth." Also elite QB-turned-WR Torrance Gibson, who may be raw, but is an athletic freak  isn't listed, but could play if absolutely necessary.
Although the depth is fine, experience is one thing the unit lacks.
Braxton Miller is obviously very inexperienced at H-Back, having only played 5 games at that position. He still has work to do with blocking, and ability to be on the field without having to get the ball. When that happens, and he gets the ball in open field, you know the outcome.
Dontre Wilson and Jalin Marshall are both in their 2nd full year playing as WRs, but there are some questions with their ability to block and ball security. Because of their small size those two things have been an issue, but they are definitely improving. "He's never been a full-time player because he's never been big and strong enough. This is the first year, I have no doubt that he can go out there and hold the point blocking on the perimeter. The first maybe year and a half, he couldn't do it." Urban said about Dontre.
Michael Thomas is arguably the best WR in the country. He is the leader of this "Zone 6" Â unit, and whenever a big play is needed, you can always look towards "@cantguardmike ."
Parris is a redshirt freshman (who was offered after one game where Urban witnessed his speed) who has been injured the past two games with a knee injury, but had earned praise from Urban before that. "He's big and strong and tough," Urban said. "And he's showing that. I love him. I think he's going to have a really fine career here." Jeff Greene is a transfer from GA Tech, he is the tallest WR for the Buckeyes, and he is one of the veterans of the unit. Although he doesn't have many stats to show for it, Jeff is a good WR, and will be ready when his number is called.
Curtis Samuel is a guy that excites many of the coaches. He doesn't have much experience at WR because he played in the backfield all last year, but he is looked to be a playmaker. He is averaging over 15 yards per touch, and he even caught the 1st TD pass of the season. Though he was slightly injured last week with back spasms, he is back to practicing, and the coaches will continue to look to give him more touches. James Clark is a fairly young guy, even though this is his 3rd year in the program. He broke his ankle during his freshman season, and he is finally healthy, and he's begun to turn heads within the staff.
Johnnie Dixon and Terry McLaurin are two speed demons who are in their first real year of playing for the Buckeyes. Johnnie has been plagued by knee tendinitis throughout his Ohio State career, and he hasn't done much since Virginia Tech. Terry McLaurin hasn't done much receiving but he has produced greatly on special teams. Â "They tell us around here, the best way to get on the field is through special teams," McLaurin said. "I felt like any special teams they needed me on – punt, kickoff, kickoff return, whatever it was – I was just going to be willing to help the team any way I can. I found that through the first four games, I've been trying make just the biggest impact I can."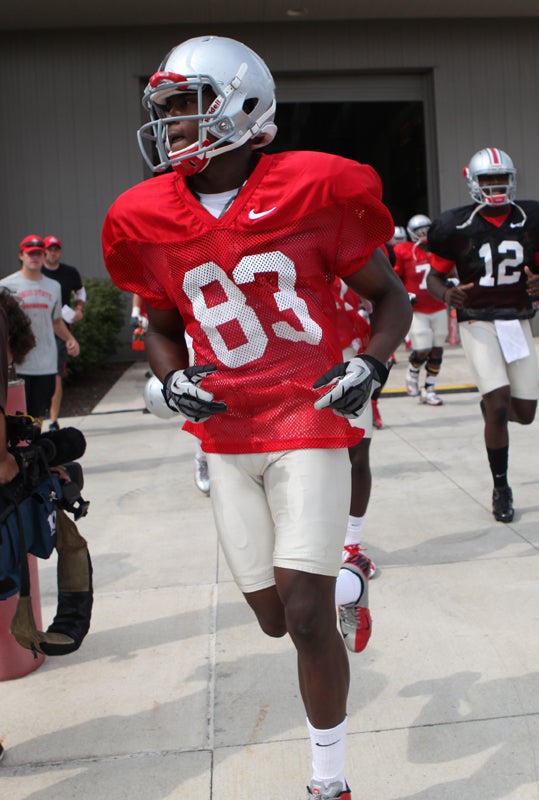 Overall, the depth in the wide receiver unit is fine. That's one of the perks of top-notch recruiting, you get plenty of depth and skill. The argument was that there may be too much depth at WR, but now since Corey got hurt, many people have started to believe that the unit is "extremely thin." Of course, any type of injury is terrible, but this team can afford it for now. There are a sufficient amount of bodies, and even though they are inexperienced, the talent they have makes up for it. So, as long as Zone 6 keeps working (which they will), continues to improve blocking on the edge, and continue to build chemistry with Cardale, the unit and the team will be just fine.