For Urban Meyer and Ohio State, the goal is to always go out and recruit the best skill position players in the country, being threats to score a TD every time they touch the ball. Four years into his tenure, Urban is finally satisfied with the depth of his skill position players. They've gone and found the best players not only in Ohio, but throughout the country, which is a huge difference than in years before Urban.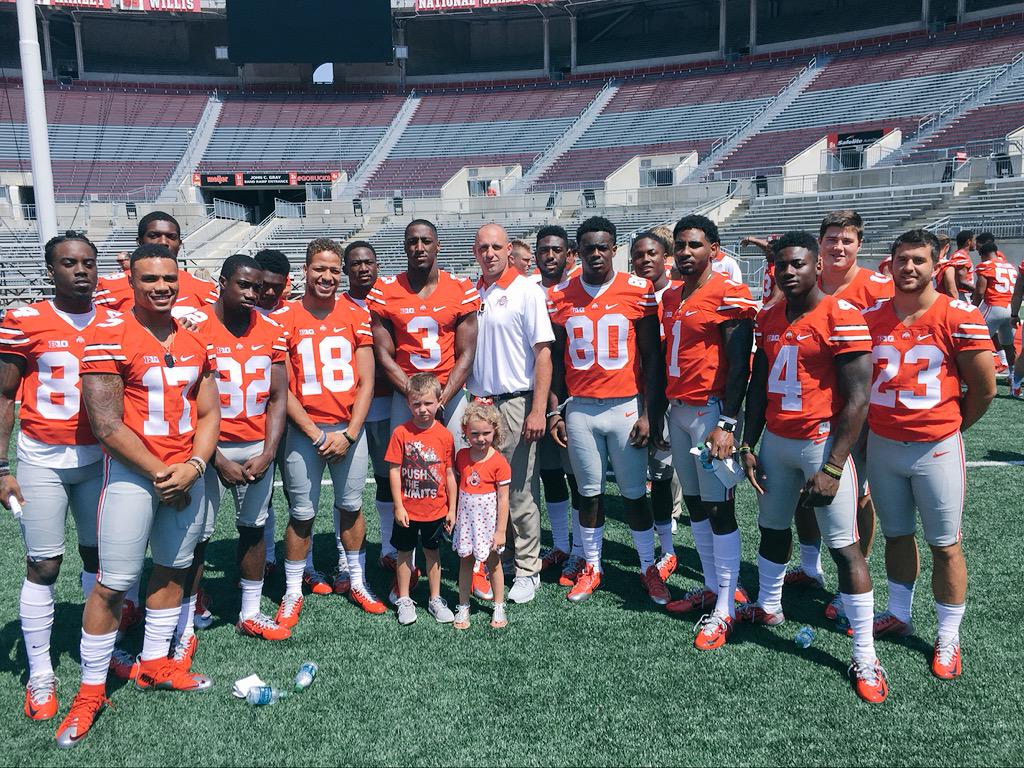 Just last year, the WR group only really had a rotation of 6 people: Devin Smith, Evan Spencer, Michael Thomas, Corey Smith, Jalin Marshall, and Dontre Wilson. With just that group, they got plenty of reps to achieve and maintain a rhythm. Their roles were defined, and over time, and over plays, they got more opportunities to potentially break through. Obviously, Devin Smith was known for his deep play ability. Because he played most of the game, opposing DB's had to consistently stay honest. He wasn't just sent out there for one play to go on a vertical route, then substituted out of the game. He had time to potentially convert on a deep ball.
Evan Spencer wasn't known for his big play ability with the ball in his hands, but he was known for his selfless play and outstanding blocking on the outside. Because each position was truly only 2-deep, Evan was allowed to stay out there and block to open up the run game. He wasn't constantly substituted, potentially getting out of rhythm. Dontre and Jalin were the two H-Back's, and although they are relatively small and need depth due to injury concerns, consistent reps are vital. That is especially evident once Dontre got injured. Jalin stepped up, and without the predictability that comes with limited reps, he put up the biggest H-Back numbers in the Ohio State, Urban Meyer Era. Now, fast forward to this, 2015-2016 season, Urban has the depth as he wants. Meyer said he likes to rank the top 10 playmakers on the team, if the team is lucky enough to have that. Last year, the team was slightly over 10, and this year, the team is far over that number. In the WR group, there now is: Braxton Miller, Michael Thomas, Corey Smith, Jeff Greene, Johnnie Dixon, James Clark, Terry McLaurin, Parris Campbell Jr., Curtis Samuel, Dontre Wilson, Jalin Marshall, (The now injured) Noah Brown, KJ Hill, and now Torrance Gibson. Out of those 14 players listed ( I know I didn't add Stump), 9 of them need to, and do play. That's a huge jump from the 6 players the year before.
For the 1st game of this season, VA Tech, 3 of the top receivers were suspended. This meant that there would be only one WR playing that night, that had actually ever played WR at the college level before (Michael Thomas). Many people, including myself, were very concerned with how those young players would manage on the big stage, against one of the best defenses in college football. "Depth at receiver is a concern for this game. Talent isn't." said Urban before that game.
Obviously, the young, and unproven WRs were plenty skilled and talented as Urban said. Of the 3 TD passes, two of them were to Braxton and Curtis who were both new to the H-Back position. Parris Campbell seemed to be the heir to Evan Spencer's "selfless throne", and the other guys showed flashes of speed. Then, of course, Braxton Miller added to his case that he is the most athletic player in the country.
We could watch this incredible Braxton Miller spin move all night! #SCtop10 (Vine by @SportsCenter) https://t.co/x6KQnynrm7

— Zone 6 (@Zone6_OSU) September 8, 2015
Then came the Hawaii game when the 3 players returned, and the Buckeyes were 41 point favorites. With the depth and speed outside, the fans and the coaches expected a high-scoring, big play game for the Buckeyes. You guys, of course, know what actually happened. The Buckeyes had an extremely sloppy game, with relatively no big plays, and no TD passes for the first time in a couple of years, but winning 38-0. Although that may seem like a dominating win, everybody was upset, including Urban Meyer.
One thing that was very noticeable, was the rotation of the WR, and the lack of touches for all of them. The passing game was extremely inconsistent, so the question arises. Does this team have too many playmakers at WR?
"Playing this position, you gotta be patient. Half the time you're not even touching the ball." said Braxton after Virginia Tech. And, according to Urban, the goal is to get Braxton "double-digit" touches. Also, "The days of Curtis Samuel playing 10 plays are over. It's our job to get him on the field for 40 or 50 plays.", which means preferably double-digit touches for him too. There is also the electric Jalin Marshall, who, just last year, single-handedly pulled us to victory over Indiana with a 4 TD second-half, who deserves touches. There is also a extremely quick, and extremely hyped, Dontre Wilson. Dontre is often overlooked because of the huge expectations coming in to Ohio State, and the comparisons with the almost mythical, Percy Harvin. But, in his first two years, he has averaged 7.1 yards per carry and 11.9 yards per reception. Numbers like those will start almost anywhere in the nation, but at Ohio State, Dontre is listed as a back-up to RS FR Parris Campbell, and in his first game back against Hawaii, Dontre had few snaps and zero touches.
There is also Corey Smith who, at one time, was referred by Tom Herman as one of the most athletically gifted on the field. When Corey was transferring from his JUCO school, Nick Saban also recruited him hard; wanting him to be the starter opposite Amari Cooper. Although Corey didn't have the best of years last season, he came on towards the end of the season and made some fairly big plays. Like Dontre, he would probably start at most schools throughout the nation, but at Ohio State he is listed as a 3rd-string, behind Michael Thomas and Jeff Greene.
"We're gonna throw to him again, and again." said Urban Meyer when asked about Parris Campbell after the Va Tech game. Urban has also mentioned Johnnie Dixon and Terry McLaurin as guys that are "coming on."
How do the coaches manage all these WRs that deserve touches? How do they continue to give Ezekiel Elliott more touches while taking away from the WR? How do the players get a rhythm outside? How do you keep the players happy since they don't get many touches? Do we have too many playmakers? Well, according to a source within the program, you can't have too many. Because of the nature of the sport, you need as many as you can have. He also said that as cliche as it may sound, Coach Meyer has really implemented the culture where the players are all about the bigger picture of the team. Although, some guys may be thinking they need more touches, it's never heard.
As the season grinds on, it will be much easier to balance all the playmakers at WR. Coaches and players will get more in sync, stepping up and proving they can make plays, there will be more clarity. Though it may seem tough, the coaches are paid big bucks for a reason, they will find a way to have the offense running at it's highest potential.