As we all know, and are probably tired of hearing, Urban made the H-Back position famous at Florida with Percy Harvin. For those of you who don't know, the H-Back position is a slot receiver who can occasionally play running back. Â Although Percy wasn't the only man at the position, he was the best, and therefore the man who gets the fame from it. The past couple years, Urban and all Buckeye fans have been looking for "Percy 2.0". The search has gone through Jordan Hall, Philly Brown, Chris Fields, (most notably) Dontre Wilson, Jalin Marshall, and now it's on to Sophomore RB turned H-Back Curtis Samuel. None of those guys – except maybe Jalin, who played well late in the year – have really lived up to the almost unrealistic Percy Harvin hype. So now, we're going to take a look at how Dontre and Jalin statistically faired in their first season as a duo at H-Back, and how they compare to Percy Harvin and his back-up (who played more like a Curtis Samuel) Jeff Demps.
| | | | |
| --- | --- | --- | --- |
| 2008 UF H-Backs | Rushing | Receiving | Touchdowns |
| Percy Harvin (5'11", 195 lbs) | 70 att. / 660 yards | 40 rec. / 664 yards | 10 rushing / 7 receiving |
| Jeff Demps (5'8″, 176 lbs) | 78 att. / 605 yards | 15 rec. / 141 yards | 7 rushing / 1 receiving |
| Totals: | 148 att. / 1,265 yards | 55 rec. / 805 yards | 17 rushing / 8 receiving |
| | | | |
| --- | --- | --- | --- |
| 2014 OSU H-Backs | Rushing | Receiving | Touchdowns |
| Dontre Wilson (5'10" 197 lbs) | 18 att. / 100 yards | 21 rec. / 300 yards | 0 rushing /3 receiving |
| Jalin Marshall (5'11" 205 lbs) | 25 att. / 145 yards | 38 rec. / 499 yards | 1 rushing / 6 receiving |
| Totals: | 43 att. / 245 yards | 59 rec. / 799 yards | 1 rushing / 9 receiving |
So, as you can see, our H-backs last year really didn't compare to what Florida's did in 2008. People may argue that it's just a skill difference in favor of Florida, but I don't think that's the entire case. Also, you have to remember that Dontre missed the last 5 games of the season, and that Jalin didn't greatly come on until the last several games, but still, they didn't have nearly as many attempts as Percy and Jeff had. So, from here we're going to look at the possibilities as to why they aren't as involved, why their numbers aren't as good, and then give a prediction about this upcoming season.
Personnel
This is likely the biggest reason that the H-Backs didn't get as many attempts as the 2008 UF players did. There was/is simply so much depth at Ohio State, that one will not get enough touches to produce as well as Percy and Jeff did. Remember, Urban hadn't had a 1,000 yard RB until Carlos Hyde in 2013, so that means at Florida, Urban didn't really have a work horse to give the ball to 15-20 times a game. He had speedsters like Percy and Jeff that are change of pace players who could get the ball more often because there isn't somebody getting the ball really often like Dontre and Jalin had in Ezekiel Elliott. Because of the lack of a consistent RB, Percy and Jeff were both in the top 4 in rushing yards that year for their team. Jalin and Dontre finished 5th and 7th respectively. Also, Florida didn't have a dominant, big wide receiver on the outside in 2008. Therefore, they had to look for more receiving production from the H-Backs, more specifically Percy. Percy was first in receptions, and 2nd in receiving yards, just behind Louis Murphy who finished with 655 receiving yards. Jalin did end up 2nd in receptions (in thanks to plenty shovel passes that count as receptions, but are basically running plays), but ended up 3rd in receiving yards by a wide margin. The two leading receiving yards for the 2014 Buckeyes were Michael Thomas and Devin Smith who ended with 799 and 931 yards respectively. So, a difference in depth and skill throughout the team is a huge reason why the H-Backs don't do as much now as they did in 2008.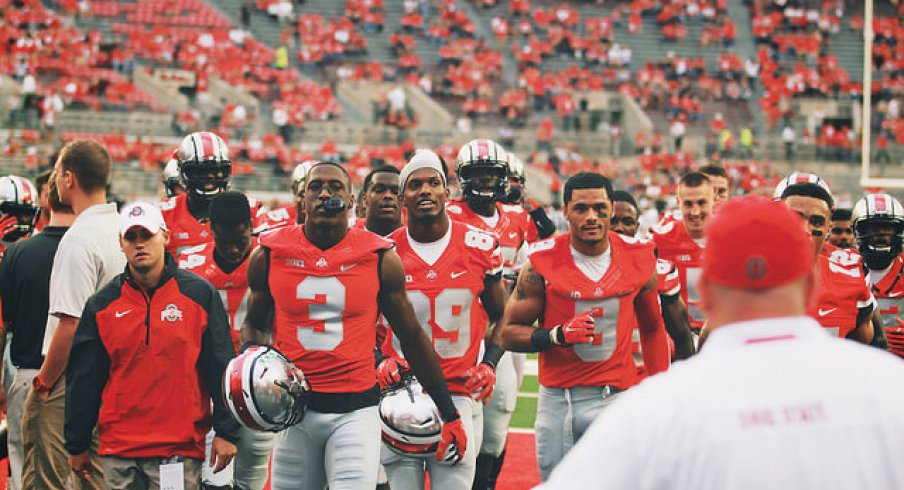 Scheme Change
This is another big reason that could potentially be why the H-Backs aren't used as much. Although much of Urban's system has stayed constant, I think it has changed. Urban is obviously a very intelligent coach, so when he recognizes that a change is needed he tries it, and if it works out to be better, then he will change it. I think he recognized that a power run game was a necessity. He has definitely implemented that into his system here at Ohio State, and I can't imagine anytime in the near future that a RB doesn't come close to or exceed the 1,000 yard mark. Obviously, this means that the speedy guys like Dontre and Jalin won't get as many touches, but when you have a guy like Ezekiel Elliott, that's something you have to do.
Also, when there's a work horse like Ezekiel, you don't really won't to take him off the field. You want to complement him, and keep defenses on their heels with the outside run game. For the 2014 team, the main outside run was the shovel pass, with the H-Back coming in motion, then the snap with the quick toss. On this play, the formation is very similar for all of them, and easy to identify, so it's often predictable. The only way to change that is to more often put them in the backfield, and for Urban to be comfortable with them in the backfield, he wants them to be a little heavier so they can take the consistent hits throughout the season. This is one of the easiest spots to see a changed mind from Urban, because Dontre and Jalin are both heavier than Percy was in college, yet they aren't allowed in the backfield as often as he was. That's a huge advantage for both Demps and Harvin because coming out of the backfield is much more difficult to predict than the shovel sweep.
Prediction for the upcoming season
For myself and many fans, the H-Back is one of, if not the most exciting position in all of football. That position isn't just a fan favorite, it's also an Urban Meyer favorite. Urban is constantly on the search for the "Next Percy Harvin", and his pitch has been that the offense is built for the H-Backs. 2017 recruit Emmanuel Greene recently said "He (Urban) says that the offense is basically for us kind of guys, that's under six foot." I think that says a lot towards how Urban wants the offense and the H-Backs to go. Although his scheme and ideas have changed he still knows he needs those quick, versatile guys that can change the game on any given play. This year, with a year of experience under their belts, I expect the H-Backs to be very successful. Will they ever put up the same numbers as Percy Harvin? I doubt it, because Urban doesn't need them to be. He needs them to be consistent and make big plays when they are needed. I believe that this year they will do that, and perhaps, Urban won't even have to look for the "Next Percy Harvin," but maybe the next Jalin Marshall or Dontre Wilson.
Highlights below: (Warning : Explicit Music)