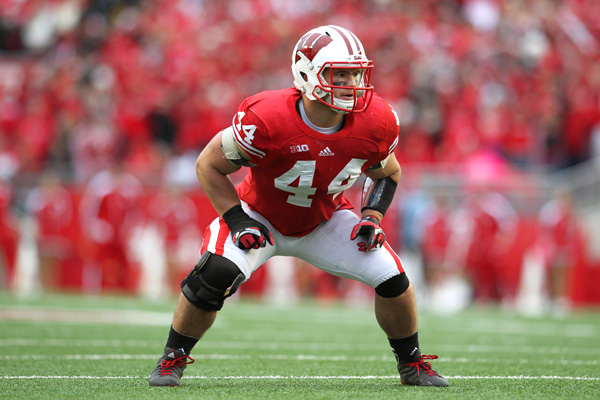 Wisconsin's Chris Borland has dealt with numerous injuries over his career but that has not stopped the 5"11 250 lbs linebacker from our own backyard in Kettering, Ohio from doing remarkable things in his career. He has been knocked by NFL scouts who say he is not tall enough or fast enough, but he continues to prove everyone wrong by constantly making plays and being dominant in the middle of the stingy badger defense. He has been arguably the best linebacker in the Big Ten for multiple years now when he has been healthy, however he seems to go unnoticed because his style is not the flashiest. Borland rarely plays out of position which is why he has always been the leader of their defense even since he was a freshman.
Here at MotSag we have Borland ranked at # 24 which I personally feel is very low, considering how he has excelled at everything his coaches have asked him to do in their scheme. To me there is no better-run stopper at linebacker in the Big Ten due to the fact he always fills the right hole and he is strong enough to disengage blocks from quite a few offensive lineman. He has a knack for punching the ball loose, in his career at Wisconsin he has forced a total of 13 fumbles, which is one shy of setting both a Big Ten and FBS record of 14 forced fumbles. Borland is on the Bednark watch list for the second straight season. He also finished with the honors of first team all Big Ten in 2012.
In 2009 Borland's freshman year he let the Big Ten know he was going to be a star and he was here to stay. While playing in every game he racked up 54 tackles causing 5 fumbles while he recovered 3 of those. Borland also intercepted a pass.
In 2010 he suffered a severe shoulder injury only allowing him to play in the first two games of the season. He received a medical redshirt that year.
Borland's redshirt sophomore year, which was 2011, he started all 14 games at middle linebacker. He totaled 143 tackles, caused 5 fumbles once again and hauled in 2 interceptions.
In 2012 his redshirt junior year he probably had his most consistent and memorable year. Borland had 104 tackles while starting all 12 games causing 3 fumbles and recovering all 3 of those as well.
Previously on MotSaG's Best of the B1G
#25 Andrew Norwell