Tight End recruiting has been rather difficult the past couple of recruiting classes for Ohio State. Â Well, the 2013 recruiting class had one of the nation's best tight ends in Marcus Baugh, but his Buckeye career has gotten off to a rocky start. Â This past class, Urban put all of his eggs in one basket, trying to court Mike Gesicki to don the Scarlet and Gray. Â Gesicki ultimately spurned Ohio State, after many thought he would choose the Bucks, to play for James Franklin and Penn State. Â Now this current recruiting class. Â The top of their board was Chris Clark. Â They jumped on the Clark bandwagon early and thought that would pay dividends. Â It did not as Clark chose Michigan while on his visit just days ago. Â Clark did want to love Ohio State, but just could not get over Michigan. Â So where does Ohio State go from here now that they have whiffed on their top TE target? Â I break down the recruits who I think could be next to get courted by Urban Meyer and staff.
1. DeAndre McNeal-Mesquite, Texas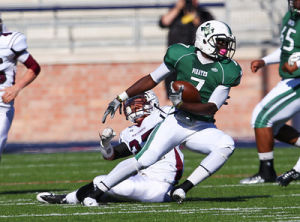 I absolutely love this kid. Â After dominating the recent Ohio State camps, I have been just gushing over his abilities. Â I have heard from many people that he could be the next Tight End they put the full court press on. Â I think that he is trending very much so in Ohio State's favor. Â He loves everything about Ohio State. Â He was not ready to commit at the camp, and is going to take a couple more visits. Â He has confirmed with me that he is going to be at Alabama on July 13th, and that he is going to the West Coast to visit UCLA today. Â He told me that Ohio State is recruiting him at Wide Receiver right now but is not reluctant to playing a different position, saying, "Whichever helps the team, I'm down with." Â  I think he projects more as a tight end at the next level, although he told me that him and Urban have not talked about that. Â He is planning a September decision and does not know when he is going to be back at Ohio State. Â I like the Buckeyes chances here very much.
2. Jake Pickard- Millburn, New Jersey
Being a New Jersey resident myself, I always root for the New Jersey players.  Jake Pickard is a very good talent.  He has a very impressive offer list including the likes of Oregon, Boston College, Louisville, Rutgers, and more.  Ohio State is an offer that he really wants.  He camped at Ohio State this past weekend but did not come away with an offer.  He told me that if Ohio State were  to offer, they would shoot up on the list to join his top group of schools.   He did love Ohio State and everything they had to offer, but cannot do much else because he does not have an offer from them.  He is visiting Oregon in July and possibly Ohio State again for Friday Night Lights.  He does not want to wait too long on the Ohio State offer though and if he is not offered by Ohio State before FNL, he could be an Oregon Duck.   His visits in July to both Oregon and possibly Ohio State, should give us a better understanding of his recruitment. If Ohio State offers, I like the Buckeyes chances very much.
3. CJ Conrad- Â Lagrange, Ohio- Kentucky Commit
Ah, the story of CJ Conrad is one of the most interesting recruiting stories of this class. Â Urban Meyer loves his tight ends and he did not have to search far and wide for one of the nations best. Â CJ Conrad is from the Buckeye State and he was all Ohio State if Urban Meyer offered. Â I think that he would have committed on the spot had he been offered. Â He has visited Ohio State, dominated NFTC's and camps, and even was invited to the opening, the most prestigious summer camp, held on Nike's Campus in Oregon. Â He was heavily recruited by many schools and ended up choosing Kentucky. Â Because they recruited Clark so heavily, they did not offer Conrad. Â He did feel kind of slighted I am sure because he grew up loving Ohio State. Â Now that they have whiffed on Clark, maybe they go after Conrad. Â  He has been in contact with Ohio State and he says that they want him to camp. Â He refuses to camp there because, he has shown them enough and his accolades speak for themselves. Â He told me that his heart is always going to be with Ohio State, but that Kentucky was the best school and choice for him. Â I asked him straight up if there was any chance that an offer from the school his heart belonged to, Ohio State, would cause a flip in his committment, and he responded with, "Nope, not a chance." Â Do I believe him? Â Yes. Â Do I believe him a lot? Not really. Â I think that ultimately, it would be hard for Conrad to turn down an offer from his love. Â I am not saying that he would flip, I'm just saying that with the passion and love he has for Ohio State, an offer from them might make him second guess his choice with Kentucky. Â I' m not sure that he is going to get an offer if he does not camp, so this is becoming a chess match almost between Conrad and Ohio State. Â Stay tuned for this as if he gets offered things could heat up.