Carter Smith, Olentangy Liberty, Offensive Tackle (247sports.com)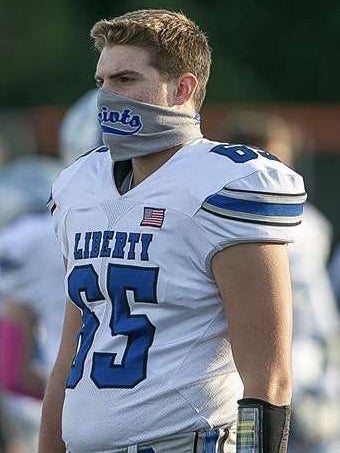 OT Carter Smith might not have the loftiest recruiting rating per the 247 Sports composite rating, but if there is anything we all know about Ohio kids they have an act of outworking anybody/everybody in the country no matter what the recruiting analysts say. Carter may be lower ranked but he lets his hard work do his talking and programs are clearly listening as the offers continue to roll in. "I currently have 24 offers and I don't want to disclose any leaders until the time comes. I'm hoping to have my top 5 out by April 15th, but anything can happen." Smith said.
I can honestly say I do not blame Smith for waiting as just in the last couple weeks alone he has had offers still rolling in and the last two have been from SEC country (Auburn , Vanderbilt) but he also has a Tennessee offer so the big programs are definitely interested and Smith is excited about the potential opportunity to take his talents to SEC territory. "It's really cool to have the opportunity to play good ball down south, but I just want to find somewhere that fits me best." Smith said.
With Carter being located just a short ways away from Ohio State I Asked him if Ohio State has reached out about a potential offer and if he thought the lack of camp opportunities that Ohio State usually holds and the on-going recruiting dead period on campuses has caused a lull in said communication. "I know they (Ohio State) would like to see me at around 280-290 pound range and I've talked with Coach Stud a few times but nothing too much about an offer." Smith Said. "Absolutely. It's the worst part about this right now, not only can I not see the campus, but the coaches and players too. It's really frustrating. I hope to make it to a camp or two this summer, there will absolutely be visits taken." Smith added.
While football is important to Smith there is plenty that he values outside of the sport. "I enjoy doing volunteer work, youth group, making smoothies at my work, and hockey. I hope to make an impact on everyone I meet and make my mark at the best place for me! It's all about relationships and i need to cherish that as much as possible." Smith said.
I cant thank Carter enough for giving me some of his time and I think we can all agree that he will do big things no matter wherever he goes!