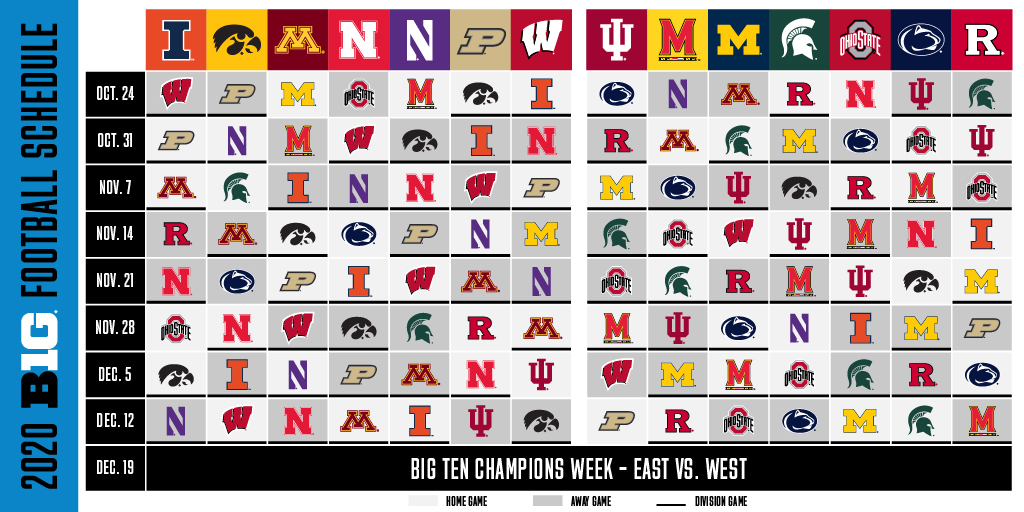 I know we are a week late, but with under a month away from the start of the Big Ten season, I have returned with a preview of the 2020 season. Although the Big Ten will start much later than the ACC, Big 12, and the SEC. October 24th will be the beginning of an odd 2020 season, and if you are like me, I would rather have Buckeye football as opposed to not having none of it in the fall.
In an eight game slate, the schedule as a whole is balanced. Yes, it is an easier than expected path with no prime time games (at Oregon), but as I said earlier, I'd rather have football over having none of it. With the schedule, the Buckeyes should have an easy path to an undefeated regular season, but on the side of caution, I would take it game by game.
I am not casting doubt on the team and I believe they are one of the best teams in the nation, but only they could trip themselves up this season. They have a plethora of weapons on offense and an experienced defensive unit in tow. The icing on the cake? They managed to convince Shaun Wade and Wyatt Davis to return for one last ride for another Championship run. Here is a breakdown of the upcoming season.
Home Games: Nebraska, Rutgers, Indiana and TTUN
The home game slate is highly favorable with the Buckeyes facing a perennial bottom feeder in Rutgers, who brought back Greg Schiano to accelerate the rebuilding process. They also have brought Brendon White in to help as well. He was a star in the making that got lost in the shuffle due to his size and lack of speed, but I feel he fits Schiano's scheme and will excel in the defense.
They also face two mid-tier teams in Indiana and Nebraska, which should be interesting to watch. Indiana always seems to be game for contests with the Buckeyes, against their former Head Coach Kevin Wilson. For some odd reason, they always give the Buckeyes fits, but this year could be different with the Buckeyes vying for another dominant season.
Nebraska on the other hand has beaten the Buckeyes once in their time in the Big Ten. The last loss was in 2011 and I see an improved offense showing up, but the talent gap is still too large to win the game. The conference big wigs may have gotten the last laugh after Nebraska made some waves by suing and threatening to leave the conference. Let us just say they got the last laugh by giving them the Buckeyes for their first game. Allies turned into enemies for at least the first week of the upcoming season.
To finish the home slate, the TTUN comes to Columbus for another installment of The Game. This one game is always interesting and this year will be no different. In the typical TTUN style, they are already licking their chops and after the "100-point" rumor starting spiraling out of control, certain team captains are trying to turn in around to end the skid. They have suffered some major losses with COVID opt-outs and NFL draft declarations. I am not saying that they don't have a shot, but to me, if it comes down to getting into the Playoffs with style points? I am putting my trust into Day and Fields to racking the points up in every game and if they need to–they will get it done to ensure their place in the Top-4.
Away Games: Penn State, Maryand, Illinois and Michigan State
For the away games, the first game is at Penn State and without a full-blown White Out–I really think this game won't be as close. With Micah Parsons still debating a return, the defense will be missing their best player. Their offense that is normally good has talent, but they are unproven. This might be a good one, but with so many questions and the talent on the Buckeyes roster, I expect a close game that'll turn ugly once the Buckeyes begin to click together. I could be wrong, but my gut feeling is that of a blowout.
Maryland is an up-and-comer team and there is no denying their talent. It is just a matter of getting them to gel together. There is talent in true freshman Rakin Jarrett and he could be a problem. The Buckeyes always seem to struggle against teams like this and I remember the point-filled contest against the Terrapins a few years ago. We will see how much change has occurred, but they are projected to do better than usual.
Illinois, the Battle for Illibuck is one of those contests that have been one-sided over the years. I remember the last loss to this team after Juice Williams took over and willed his team to victory. Lovie Smith has been developing his players and it is evident that they love playing for him, but again, the talent gap is as wide as it is tall. They'll make it a contest, but they won't be able to sustain it.
Lastly, at Michigan State is a game that I am afraid of. Sparty always finds a way to be that roadblock late in the season and I still have the image of the kick-air guitar loss burned into my brain. I hope that doesn't happen and they have lacked an offense that could compete. Defensively, they've suffered some losses to the draft and COVID opt outs, but that is hardly an excuse. This game will be gritty and it'll be close until Fields has his Heisman moments.
To summarize, this schedule is favorable and it should be fun to watch them pack on the points. There are some tough tests ahead, but it is completely doable. I expect an undefeated season with a few heart-racing conclusions to games. I hope you enjoyed the schedule preview and I am happy to be back to doing what I love to do. #GoBucks