By: Phil Schoch, Twitter me @osuphil95
Each week Pick 'em & Tidbits risks public humiliation and mockery by predicting each B1G game, as well as a few national spotlight games, versus the Vegas spread.
If we learned anything whatsoever from this past weekend, it's this…
I am officially on fire! My record the past three weeks against the spread is 20-6! Yo-Yo-Ma! In Week 13, Pick 'em & Tidbits registered an 8-2 record versus the spread and 9-1 straight up. My PM Stukenborg Fearless Prediction that Minnesota would wrastle the Axe from the Badgers was a flop.
Heading into the Championship Weekend, my season record stands at 76-66 (53.5%!!!) ATS and 107-35 (75.4%) SU!
I know youall are pulling for me. I can telepathically feel the love and vibrations of positivity each week as you briefly consider clicking on my article then mutter, "Why the hell would I want to read his crap?" It truly means a lot to me. Thanks!
The Game… The Glorious (slightly hollow-feeling) Game.
A victory over Jim Harbaugh's Adidas Boys of Navy & Sun should never be minimized, but I admit, a twinge of hollowness and what if still haunted me after the Buckeye beatdown Saturday. Now the Buckeyes are reduced to rationalizing how a North Carolina upset win over Clemson could vault the Bucks into the top four or clinging to desperate hopes that Florida can score more than two points this week and stun Bristol's Team – 'Bama. I don't remember much from 1998, but I do remembered this feeling – Sparty'd.
Lift your spirits by enjoying the destruction of a Michigander's spirits.
The five stages of grief experienced by Jim Harbaugh as Urban Meyer, the Slobs, Zeke and the Silver Bullets laid waste to the Team Up North.
1. DENIAL
2. ANGER
3. BARGAINING
4. DEPRESSION
5. ACCEPTANCE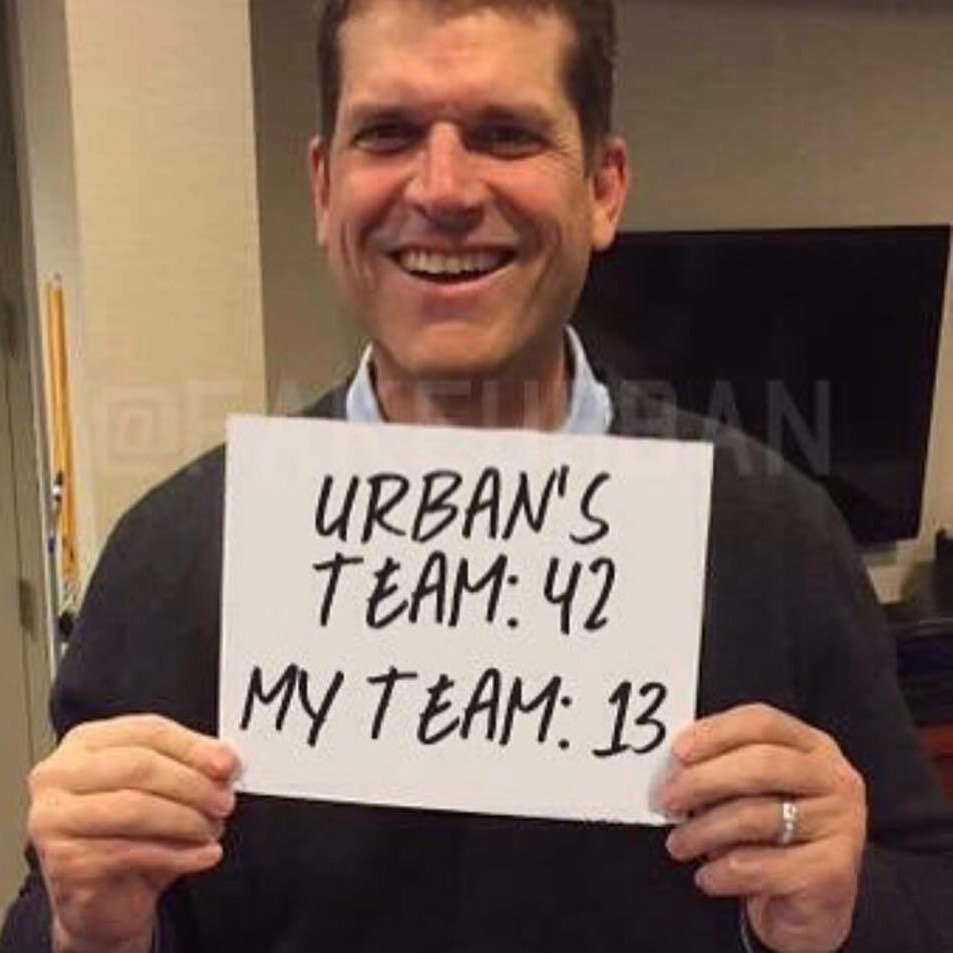 Hanging banners in Ann Arbor (Part II)
I feel better. I hope you do too.
You gots to be kidding me?!
Word surfaced on Tuesday that NCAA Division I, FBS, Power 5 schools are actually interested in interviewing former Florida Gator head coach, current Auburn defensive coordinator and future Criminal Minds ripped-from-the-headlines unsub – Will Muschamp. What? Why? South Carolina? What could you possibly be thinking? Disturbing and befuddling.
Watch Criminal Minds on Wednesday nights at 9:00 on CBS.
Disclaimer: Please! For the love of gawd, do not wager real money based on anything you think you may have learned here this week. On any given Saturday, I am Mr. Madison.
Saturday, December 5
Temple

 

AAC Championship

12:00

ABC

Vegas says… Cougars -6.5

At Houston

 
Temple coach, Matt Rhule, and Houston coach, Tom Herman, have been two of the hottest names in the crazy 2015 season of coaching musical chairs. With both coaches linked to interviews, offers, contract extensions, etc… it will be interesting to see which squad is more focused and prepared for the title game.
Pick 'em says…Houston has a New Year's Day big boy bowl on the line, they are playing at home and how can I bet against former Buckeye OC Herman? Cougs, 31-21.
Alabama

 

SEC Championship

4:00 at Atlanta

CBS

Vegas says… Bama -17

Florida

 
Florida's offense has been putrid since starting QB Will Grier failed an NCAA-administered drug test and was suspended for a calendar year. Last week the measly Gators hung a 2 on the scoreboard versus the Seminoles. Things won't be easier this week.
Pick 'em says… Buckeye fans, there is no hope here. Bama 20-6.
Southern Cal

 

PAC-12 Championship

7:45 at Santa Clara

ESPN

Vegas says… Stanford -4.5

Stanford

 
If Stanford had only played Stanford Football (instead of Illinois football) against Northwestern in Week 1, the dancing tree would be playing for a spot in the playoff four.
Conrad Ukropina:
You were my hero Saturday night!
Thank you!
Pick 'em says… This week, Southern Cal hired a Hollywood movie extra as their new head coach. He'll lead the Trojans to a PM Stukenborg Fearless Prediction upset. USC, 35-31.
Michigan State

 

B1G Championship

8:00 at Indianapolis

FOX

Vegas says…

Spartans -3.5

Iowa

 
Iowa has decent victories over Pitt, Wisconsin (who can forget that 10-6 crapfest), Northwestern and Nebraska. The Spartans of the B1G East are a whole 'nuther beast.
Pick 'em says… Spartans, 28-17.
Clemson

ACC Championship

8:00 at Charlotte

ABC

Vegas says… Tigers -5

North Carolina

 
Buckeye fans, this is it. We need the mother of all Clemsoning's Saturday night. Dancing Dabo can shuffle off to a number one seed in the playoffs and slam the door on the defending National Champs chances. High drama in the ACC. Oh, and Carolina Blue Lady, a few local guys said they would love to meet you.
Pick 'em says… PLEEEEEEASE HEELS! Don't turn the ball over and you've got a chance to give the Buckeyes a chance. Clemson, 42-38.
Crap! Sparty'd!