Last week I gave my prediction on where I thought some of the seniors on the 2015-2016 Ohio State Football Team would be drafted. As I promised at the end of that, I am back to give my prediction on where (or if) some underclassmen will be drafted.
Again, it is a sad subject to talk about, especially since the season still has a long ways to go, but every player that has ever played or is playing college football has or will leave that college/university. It's part of the game. So, let's go ahead and start.
Joey Bosa -Â The 6'6″ 275 lb true junior defensive end out of Fort Lauderdale, Florida is practically a household name now. Many Ohio State fans are holding on to the hope that Joey will want to stay for his senior season to play with his younger brother, Nick. Stay and risk injury, or go and make millions? That's why he is a sure pick to leave early for the NFL draft.
In his first two seasons with the Buckeyes, Joey was selected as an All American during both (Freshman All-American, then Unanimous All-American). Just last year, he posted 21 TFL, and 13.5 sacks. Many people think that he displayed such dominance last year that if he would've been eligible to be in the NFL Draft last year, he potentially could've been the #1 overall pick.
The scary thing? He is even better this year. Some media members like to criticize him because of his low sack totals this year, but it's obvious he is a very dominant force. "Joey Bosa is as disruptive as any defensive player I've ever been around." said Urban Meyer. Joey even rates out as the highest edge rush defender in the country.
I don't think I need to say much more on him. Watch any game and you will notice him very quickly. Larry Johnson uses him all over the D-Line, and it creates matchup nightmares for any player going against him. Without help from a double team, or a chip from a RB or TE, it's nearly impossible to stop Joey Bosa from getting to the backfield.
Prediction -Â 1st overall draft pick.
Ezekiel Elliott -Â "Zeeeeeekkkkkkeeee!" The 6'0″ 225 lb RB from St. Louis, Missouri is an even more commonly heard name than Joey Bosa. He is the pride of Ohio State fans. Any time he runs the ball, you will hear a cry of his name throughout the entire stadium. That is, of course, for a good reason. He shredded each of the final three teams of Ohio State's 2014 season on the way to leading the team to their first championship in 12 Â years. He even went 85 yards through the heart of Alabama.
Zeke is certainly a unique type of back for Ohio State, but he gives the team everything they could ever want out of him. He is a great rusher, with every game of the season being over 100 yards rushing. He is a great blocker, being the only RB in the country that still has a 100% blocking percentage. He is also an excellent receiver out of the backfield; constantly being called to play in the slot. He is what you would call a "complete" back.
With his unique blend of speed and size, he has the attention of every single NFL team. Even though the RB position may be endangered, teams still need a solid RB and run game to be a good team. As long as he stays healthy and continues to compete and play well throughout the season, he will be a high draft pick.
Prediction -Â Mid 1st round Cardale Jones -Â The 6'5″ 250 lb RS Junior QB from Cleveland, Ohio has had quite the rollercoaster of a ride in terms of his draft stock. As you guys know, he was the 3rd string RB that appeared to always be that one career bench warming QB. Then, Braxton and J.T. went down, and it was suddenly the Cardale Jones show. He came out and made an unforgettable appearance on the brightest stage in college football. He was at the helm of the offense as the team won three consecutive and historical games to eventually win the National Championship. He was 12 gauge, the man full of swag, the king of college football.
After practically declining an invitation to be a fairly high (probably 2nd round) draft pick, he went on to then start for the Buckeyes as they started their season against Va Tech. He looked like typical Dale. Gun slinger with a kind of slow, yet physical running style. He went on to start the next 6 games, but after multiple poor games, he was replaced by J.T.. After the #FailforCardale commotion, people began to question his future as an NFL QB.
Now back as a 2nd string, scouts and teams mostly want to see how Dale responded to the demotion. He made a good showing, and had good comments from Urban for being ready to again replace J.T. because of his OVI before Minnesota. But, he had yet another poor football showing. So, does he have the skills to be a pro QB? No doubt. He has all the tools in the world, it's just a matter of if he can put them together again.
Also, I think Cardale will not risk staying another year to potentially stay J.T.'s back-up and continue to lose draft stock. He will leave in my opinion.
Prediction -Â 4th round, mostly just due to potential
Michael Thomas - The 6'3″ 210 lb RS Junior WR from Los Angeles, California is a true force on the outside for the Buckeyes. This soft-spoken, yet physical player is a real leader for not only his unit, but for the entire team. "At practice, [Mike's] the guy that I always go to," Meyer said. "He'll come talk to me about tempo at practice or things, any issues that I need to deal with. He's really taken on a little bit of the Jeff Heuerman role for me." said Urban.
Michael Thomas is arguably the best route runner in the nation. If you need proof, look no further:
WATCH: #OhioState WR Michael Thomas schools Virginia Tech CB Kendall Fuller on this TD catch @Cantguardmike pic.twitter.com/edDN8tGki1

— The Buckeye Nut (@TheBuckeyeNut) September 8, 2015
Michael is also very sure handed (only 1 drop on the season), and he has a very good sense of where the sideline is. He is the type of player that you can throw to almost every play, and he will make the catch. "He's always had the ability," wide receivers coach Zach Smith said. "Mike's biggest battle was consistency. He's always had those moments every now and then where you just go, 'Wow!'"
Michael is consistently ranked either 1st or 2nd in wide receiver rankings for this draft class (Laquon Treadwell is the other). The only knock people have on him is that he isn't a true deep threat. Although he isn't a Devin Smith, he can create some separation downfield.
Also, he is no doubt declaring for the draft this year, because he was in the senior picture at media day, even though he obviously isn't a senior.
Darron Lee -Â The 6'2″ 235 lb RS Sophomore LB from New Albany, Ohio is certainly a force to be reckoned with on the defensive side of the ball. After having a great season last year, with 81 tackles, 7.5 sacks, 16.5 TFL, 2 INTs, and 2 TDs, the numbers are a little bit lesser this year. That isn't to suggest that his level of play has decreased, because it hasn't, but it's because teams are scheming around him. They do not want to run to the side of Darron Lee.
Darron Lee is a Ryan Shazier type of player. He has the speed of a safety, yet the size of a LB. This combination pretty much shuts down any threat of a lateral run game, or a screen game. He has the power to shed through a block, and the speed to stay with a WR or RB. He's even used to cover the slot receiver in some passing situations. Darron is simply an electric player that consistently makes plays.
NFL teams love any freak athletes that they can find. Darron is no exception. Teams love his speed and size at that position. He is 235 pounds, but because he is a converted safety, there have still been concerns about his size and strength. Also, Darron hasn't hinted at leaving, but I think there is at least an okay chance of it happening, so if it does, he will be picked  highly.
Prediction -Â Late 1st round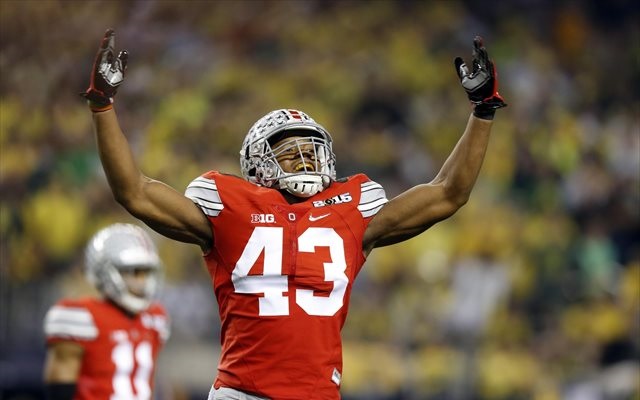 Vonn Bell -Â The 5'11" 205 lb true junior safety from Rossville, Georgia is the type of player you look to always find. Even coming out of HS as a 5 star prospect, Vonn has exceeded expectations, according to Urban.
Vonn is a true playmaker at the safety position. Some would even argue that Vonn is the best safety in the nation. He is a true ball-hawk, sharing the B1G lead with 6 INTs last year, and he is as sure as a tackler that you will find. He finished 2nd on the team with 92 tackles last season. He is also the playmaker like I said, already finding the end-zone twice this year. "Good defenses prevent points being scored and great ones score them." Vonn likes to say. So, he is evidently a key part in the great defense.
"If you were to say, 'What's a silver bullet?' look at Vonn." said safeties coach Chris Ash. Vonn Bell is great at defending the pass, and when he gets the chance, he likes to go downhill and put a big, yet sure tackle on somebody. That's part of what scouts and NFL teams like. They love his willingness, his ball skills, and his coverage skills. They are only concerned with his size and further potential.
Like Darron, there haven't been many hints as to whether Vonn will leave or stay. With his success, and draft stock, many would be inclined to think he would leave, but there's always a chance he returns.
Prediction -Â Late 1st or early 2nd
In case you couldn't tell, this current Ohio State team is loaded. It's full of players that are going to go to the NFL. It's going to be difficult to see so many players leave after this season, but it is also fun to see them having success.
So, the players I listed are guys that I think have the best chance to declare. If I didn't list them, I don't think they will leave. Does that mean I don't think the other guys aren't good? No, because several others could declare early, but I just don't think it will happen due to several different reasons. Overall, though, just enjoy this team as we only have at most 6 games left. Go Bucks!