As you probably know and have read about, J.T. Barrett was recently announced the starter over Cardale Jones for the upcoming game against Rutgers and on. After months of many fans calling for this to happen, and months of Urban being redundant that J.T. had not yet beat out Cardale, the switch was made.
Obviously, Cardale had some of the highest expectations of all returning college football players. After all, he was the 3rd string QB that led the team to beat Wisconsin, Alabama, and Oregon in an extremely impressive stretch that put Ohio State on top of College Football. His potential was and is apparent to anybody who watches. He is one of the biggest QBs in all of football, and has one of the strongest arms in all of football. He is undefeated as a starter. So, why was the switch made?
"Just sheer production. … Red zone production, third-down production made the difference." said Urban Meyer on Tuesday.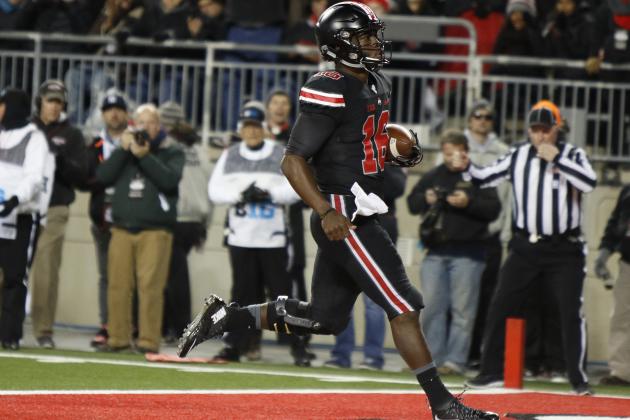 If you go off of the stats, and the fact that he won the B1G Championship, the Sugar Bowl against "almighty" Alabama, and the National Championship against Oregon, you would think there's no way he could be demoted. But, if you closely watch the game, you see why. His running threat is fairly non-existent which allows defenses to key on Zeke, and without Devin Smith and the coaches trust for that deep threat, his famous deep ball isn't there. His short throw accuracy also isn't as great as you would expect from a projected first round pick, which, inevitably, makes for struggles in the red zone.
Of course, those red zone struggles led to the J.T. Barrett package in that area of the field. Not only was he slightly better than Cardale in that spot of the field, but the team went from 6-16 under Cardale to 12-12 under J.T. Then, after more struggles from Cardale during the Penn State game, J.T. was handed the reigns to the offense. From there, J.T. led the team to flashbacks of last year, and he "beat-out" Cardale.
Now, what will the offense look like with a "new" starting QB? Let's look at his stats and game scores from last year.
J. T. Barrett 2014 stats
Navy – W 34-27. 12-15, 226 yards passing, 2 TD, 1 INT. 9 rushes, 50 yards.
Virginia Tech -Â LÂ 35-21. 9-29, 219 yards passing, 1 TD, 3 INT. 24 rushes, 70 yards, 1 TD.
Kent State -Â WÂ 66-0. 23-30, 312 yards passing, 6 TD, 1 INT. 8 rushes, 6 yards.
Cincinnati -Â WÂ 50-28. 26-36, 330 yards passing, 4 TD. 14 rushes, 79 yards.
Maryland -Â WÂ 52-24. 18-23, 267 yards passing, 4 TD. 16 rushes, 71 yards, 1 TD.
Rutgers -Â WÂ 56-17. 19-31, 261 yards passing, 3 TD. 7 rushes, 107 yards, 2 TD.
Penn State -Â WÂ 31-24. 12-19, 74 yards passing, 1 TD, 2 INT. 20 rushes, 75 yards, 2 TD.
Illinois -Â Â WÂ 55-14. 15-24, 167 yards passing, 2 TD. 7 rushes, 38 yards.
Michigan State -Â WÂ 49-37. 16-26, 300 yards passing, 3 TD. 14 rushes, 86 yards, 2 TD.
Minnesota -Â WÂ 31-24. 15-25, 200 yards passing, 3 TD, 1 INT. 17 rushes, 189 yards, 1 TD.
Indiana -Â WÂ 42-27. 25-35, 302 yards passing, 4 TD, 2 INT. 20 rushes, 78 yards.
Michigan -Â WÂ 42-28. 13-21, 176 yards passing, 1 TD. 15 rushes, 89 yards, 2 TD.
Overall -Â 203-314, 2,834 yards passing, 34 TD, 10 INT. 171 rushes, 938 yards, 11 TD.
Obviously, these numbers are great. He broke the record for most passing TDs by an Ohio State QB when he threw for his 31st. He also broke Braxton's single season yards record of 3, 310. And, he broke Drew Brees's B1G single-season TD record when he recorded his 43rd score against the team's rival. Then, to cap it off, he finished 5th in the Heisman race, even after not playing in the B1G Championship with a broken ankle.
Some of you may think, "Well, all those stats were last year, what about this year? He didn't play well early in the season when replacing Cardale."
"The first few weeks I was trying to come out, trying to make plays and forcing it." J.T. admitted after the Penn State game. "That's asking for bad things to happen, when you try to force things instead of letting them come to you."
Like I alluded to earlier, J.T. is 6-6, 56 yards passing, and 2 TDs, along with 21 rushes for 164 yards and 5 TDs. He has shown flashes of his consistency and greatness of last year, along with a new level of speed. He showed the ability to continuously make the correct reads, specifically in the read-option with Ezekiel Elliott and Braxton Miller.
"Barrett makes a difference for them. There is no doubt about it." said Penn State coach James Franklin after their loss to Ohio State. "Braxton Miller is a special athlete with the ball in his hands and their people up front and their tailback played very well. Give those guys credit. Good football team." With a better decision maker in J.T., and those two elite runners with a powerful line will be something extremely difficult to stop.
Overall, I would certainly expect a more high scoring offense. J.T. is a smoother operator, and if nothing is open downfield, unlike Cardale, he can pick up adequate yards. With all the playmakers this team has (when healthy, of course), they need somebody to get them the ball. Who better to do just that, than The Distributor, J.T. Barrett. He may not possess the arm that Cardale has, but he didn't have it last year, either, and look at the points the team put up. I predict the team will get their first 50 point game under J.T. Saturday night, but that of course gives the opposing offense more chances, which will likely result in more points for them as well. So, look for more points on both sides, but look for our side to look more like the offensive juggernaut everybody was predicting them to be.