By: Phil Schoch, Twitter me @osuphil95
Each week in this spot, we analyze college football's desert numerology and make meticulous predictions (erratic guesses based on hunches) for each B1G match-up as well as a few national spotlight games.
In week two, Pick 'em & Tidbits leveled out with a modest 8-8 record versus the spread and 12-4 straight up. My PM Stukenborg Fearless Prediction of Colorado State (+6.5) winning outright over Minnesota covered but was a near miss as the Rams fell to the Gophers by 3 in overtime. After two weeks, I am 15-18 against the spread and 26-7 straight up.
Before we dive into Week 3, my heart aches for smirkin' Steve Spurrier and bosomy Bret Bielema. Apparently they and their squads were so preoccupied and distressed about the strength of Ohio State's schedule that they (quite unfairly) could not focus on their Week 2 opponents. Spurrier's South Carolina squad helped snap Kentucky's 6 year conference road losing streak. Bert's Razorbacks were toppled by mighty Toledo from the powerhouse MAC. It's just not right, guys. I feel ya.
Disclaimer: I am not an oracle, soothsayer or remote viewer. Please do not wager any money, real or Monopoly, based on anything written in this weekly post.
Around the B1G…
Saturday, September 19
Illinois

12:00

ESPN2

Vegas says…

Tarheels -9.5

At North Carolina

 
The Scavagin' Illini have spent the first two weeks feasting on rotting corpses. This week they finally face a team with a pulse, a weak middle-of-the-pack ACC pulse, but at least the body is still warm. Is Illinois ready for the middle-of-the-pack B1G status? Or is it still rotting corpse B1G?
Pick 'em says: Oo-oo, that smell. Can't ya smell that smell? It's the Illini. Heels, 23-17.
South Florida

 

12:00

ESPNU

Vegas says…

Turtle Soup -7

At Maryland

 
Maryland couldn't handle the Bowling Green's MACtion and got sMACked down by 21. Thanks alot, Obama Delany! You got us Atlantic Coast Purdue. At least they have crab cakes instead of barnyard stink.
Pick 'em says… Maryland 19-16.
UNLV

 

12:00

 BTN

Vegas says…

No Spread Available

At Michigan
At go-time, there was no spread available for this colossal tilt. I'm predicting a Vegas number around 31. Last week Eddie Haskell (Michigan) took Lumpy and the (Oregon State) Beaver behind the woodshed and gave them what-for and all was right with the world in Ann Arbor. [Obscure reference for all my vintage readers]
Pick 'em says… Michigan 45-13. 
Air Force

12:00

ABC

Vegas says… Sparty -27.5

At Michigan State
As long as there aren't any Sparty NOOOOO! moments, November 21, 2015 will be the biggest game in the B1G since #1 Ohio State vs #2 Michigan in 2006. As long as there aren't any 1998 OSU vs MSU moments, 10-0 Sparty will march into The 'Shoe  to stare down the 10-0 Buckeyes. Two months to go!
Pick 'em says… Â Michigan State, 38-13.
Kent State

 

12:00

BTN

Vegas says… Gophs -24

At Minnesota

 
It's the Battle for Glen Mason's Heart. Former Buckeye linebacker, Glen Mason, was the head coach at Kent State from 1986-1987 and at Minnesota from 1997-2006. While coaching at Kansas (1988-1996) in 1995, Mason accepted the head coaching job at Georgia. After a change of heart, he decided to stay at Kansas, but left the following year for Minnesota. He has a career coaching record of 123-121-1. Considering the schools – not too shabby. Today he broadcasts games on BTN and is a regular in the studio – seems like a helluva guy. And now you know a little more about Glen Mason.
Pick 'em says… Gophers finally get an easy one, 38-10. 
Nebraska

 

3:30

ABC/ESPN2

Vegas says… Duh U -3.5

At Miami, Fl

 
Is Da U back? No. Are the Blackshirts back? Nope. This is not the '84 Orange Bowl. Will there be 30,000 empty seats? U betcha.
From 1966 – 2012, legendary Minster (Ohio) resident, Paul 'P.M.' Stukenborg (pictured) posted his weekly sports predictions in the hometown paper, The Community Post. Each week, Pick 'em will make a P.M. Stukenborg Fearless Prediction and call for an underdog to to knock off the favorite.
Pick 'em says… Huskers, 31-30. I just put 31-30 because that was the final score in the '84 Orange Bowl when Miami upset Nebraska for the National Championship. I'd say 21-20 is more likely.
Northern Illinois

 

3:30

ABC/ESPN2

Vegas says… OSU -34.5

At Ohio State
After a short week and a let-down game where they still won 38-0, the Buckeyes likely won't sleep walk through this game. NIU will score a few points, but they'll give up plenty more.
Pick 'em says: Bucks start a string of 50+ point games, 52-17.
Virginia Tech

 

3:30

ESPNU

Vegas says… Turkeys -6

At Purdue

 
I meant what I said above Purdue, about the barnyard stench. I was there in 2007: 90 degree heat in October, Black Out, night game vs the Buckeyes. The stench was so foul it stung the nose, throat and eyes. The crowd stood watching the game with their shirts pulled up over their mouths and noses. Then you ran out of water and Gatorade during the 3rd quarter. What gives Purdue? Lousy teams, horrid stench, terrible post-game traffic – BUT – you still cash that massive $32 million per year B1G media rights check. You should have been relegated years ago.
Pick 'em says… Turkey Tech, 24-13.
Troy

 

3:30

BTN

Vegas says… 

Roadkill Bucky -34.5

At Wisconsin

 
Troy is located in Troy, Alabama. Look out Badgers! They might have SEC-B speed! They don't though.
Pick 'em says: Roadkill Bucky, 45-13.
Western Kentucky

 

4:00

ESPNN

Vegas says… 

Indiana Lee Roth -1.5

At Indiana

 
3 named famous killers: John Wilkes Booth, Mark David Chapman, Lee Harvey Conspiracy and Sirhan Sirhan Sirhan. 3 named famous crooning lady killers with time capsule hair: Billy Ray Cyrus and David Lee Roth. Achy Breaky BRC is from Flatwoods, KY. I'm Just a Gigolo, DLR is the son of an ophthalmologist and from Bloomington, Indiana.
Pick 'em says: When David Lee Roth sang, This must be just like living in paradise, he sure as hell wasn't singing about West Lafayette, Indiana. WKy, 38-31.
Rutgers

 

8:00

BTN

Vegas says… Penn St -10

At Penn State

 
Having watched BTN since its birth, I've often wished the BTN regulars lived in my neighborhood? Wouldn't you love to hear Dave Revsine holler out to his kids, "It's time to come in for dinner – NOW!!!" Wouldn't you chuckle seeing Gerry DiNardo out mowing his lawn with his black socks hiked up to his knees? Wouldn't you love to have a couple beers on the driveway on a crisp autumn night with Howard Griffith? Wouldn't you absolutely hate it if Penn State moved into the neighborhood? How long would it take you to get the FOR SALE sign in the yard if Rutgers moved in next door? Ugh. 
Pick 'em says… Ugly. How ugly? Man-nipple strategically inside the R ugly. Penn State 19-11.
Pitt

 

8:00

BTN

Vegas says… Iowa -5.5

At Iowa

 
At Ohio State, Jim Tressel won a National Championship, had 2 undefeated regular seasons, won 6ish B1G Championships, won 5 BCS Bowls and beat Michigan 9 out of 10 times. Jim Tressel never won the B1G Coach of the Year award. At Ohio State, Urban Meyer has won a National Championship with his 2nd and 3rd string quarterbacks, had 1 undefeated season, won 1 B1G Championship, is 3-0 vs Michigan and has never lost a B1G conference regular season game. Urban Meyer has never won the B1G Coach of the Year. Kirk Ferentz has won the B1G Coach of the Year 3 times!!!
Pick 'em says… Cornstache over Wannstache, 24-17. Iowa goes 3-0 and puts Ferentz in position to win COY #4! 
National Spotlight…
Georgia Tech

 

3:30

NBC

Vegas says… Tech -2.5

At Notre Dame
Notre Dame is now down 5 starters with season ending injuries. Georgia Tech's offense is a meat grinder. I can't stand Brian Kelly. Notre Dame must be forced to join a conference. Two topics for another day.
Pick 'em says… Wramblin' Wreck, 31-24.
Auburn

3:30

CBS

Vegas says… LSU -7

At LSU
Matching 60's-style logos too? Les Miles is 25% wizard and 75% putz. Gus Malzahn is 60% offensive genius and 40% preoccupied by thoughts of his wife giving another crazy interview on TV. If you have never seen this interview, YouTube it, you will not be disappointed. https://www.youtube.com/watch?v=rHIQSFM0kAs
Pick 'em says… Gus was like, SHUT UP! LSU, 22-16.
Ole Miss

9:15

ESPN

Vegas says… Bama -7

At Alabama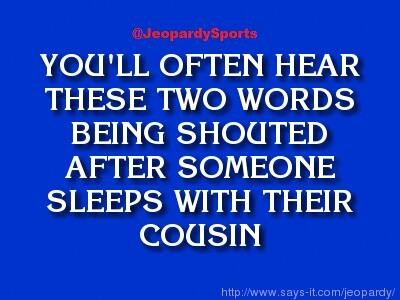 ROLL TIDE!!!
From @JeopardySports
Pick 'em says… Even though Ole Miss has dropped 70+ on two awful teams, my gut says ugly and low scoring and why don't you work out or something, it's getting crowded inside of these t-shirts. Bama, 23-17.