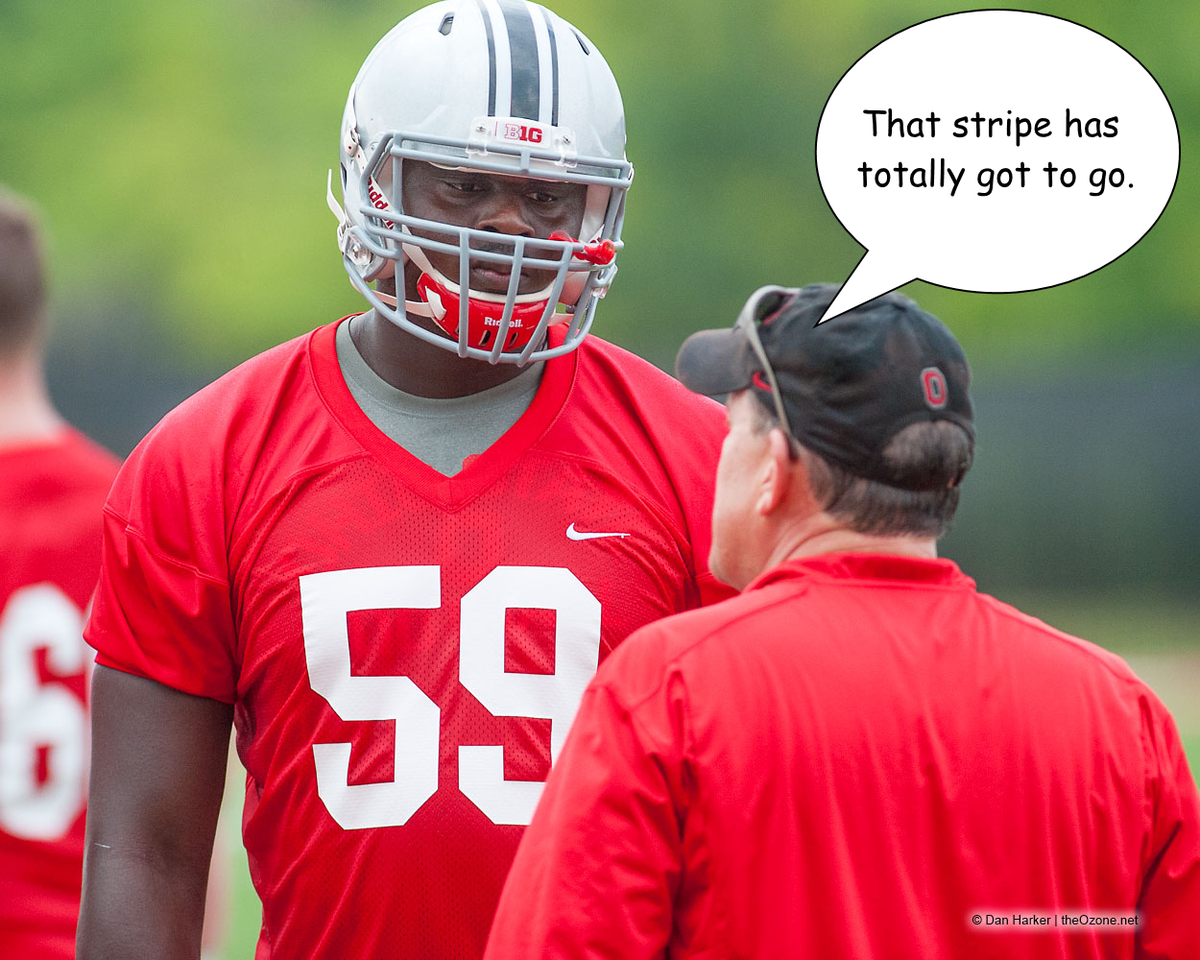 There has been something troubling me this training camp. Usually we are busy with names that come out of camp of the newest Buckeye players who have lost their Black Stripes. By my research that I could dig up, this might not be a hundred percent accurate, I noticed something really strange.
In 2013, after Buckeyes had their undefeated season, there were approximately 11 players who had their Black Stripes removed in August (again this is all I could find). 21 players had the honor of Black Stripes being removed last season, in August. So far, as I am writing this, only 6 players have had theirs removed this August.
Can this be a cause of concern for the Buckeyes this season with such a low number? You can't play in a game if you have your Black Stripe because you haven't become an official Buckeye player yet. Eli Apple had his until April a year after he set foot on campus. Ohio State head coach Urban Meyer has always said he recruits players that can play right away, really doesn't like to red shirt players if it can avoided.
The Black Stripe program is meant as a way for the upperclassmen on Buckeyes football team to take a "Little Brother" under their wings. The upperclassmen have a responsibility to show the new players what it is about to be a Buckeye- from they way they practice, conduct in and around the facility, approach to academics, and demeanor in public. Watching Scarlet and Gray Days on BTN you witnessed Ezekiel Elliott mentoring true freshman Mike Weber. We were able to see how Zeke was teaching him the small things to become a better running back, praising him when he did good and explaining to him if something went wrong. Showing Weber from his experience about the right way to carry the ball and how defenses like to rip it out certain ways, Zeke also told Weber if you want to get your Black Stripe removed you better get over there and volunteer to get on special teams even if its scout team (paraphrasing). Mike Weber is only one of the six so far to have his Black Stripe removed.
Are we seeing any indication that the other upperclassmen aren't doing their jobs mentoring the new players right? The Scarlet and Gray Days has lead me to believe its quite the opposite. You can make a strong case that the upperclassmen are setting a higher standard for these new players to get their Stripes removed. All of these upperclassmen have bought into a system that Urban Meyer and company have brought to Columbus. They have seen their hard work and dedication pay off by only losing three games in three years. The bar was set even higher after winning the National Championship this past season.
Think about it these upperclassmen know what it takes to win the National Championship, they know the hard work and dedication they put into the Buckeyes program. These upperclassmen know what that feeling is like, hoisting the hardware after the very last game crowning them kings of football. They want to get back and want the tradition to live on even after their future of wearing the Scarlet and Gray is over, so saying you are a Buckeye will continue to mean ELITE. Only six players have crossed over to the elite side so far but I am willing to bet many more are very close. The Buckeye players are building a dynasty and it all starts with Urban Meyer and his Black Stripe program.