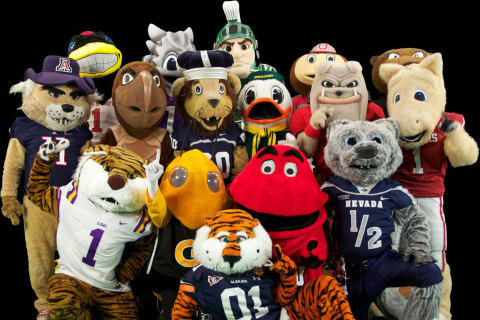 16 days until it's here. 16 long arse days. Uggggggghhhh.
Ohio State's question marks and story-lines have been talked about more than Caitlyn Jenner winning the gold medal this summer (or something like that, I have no clue). I began to wonder if there was any football being played outside of Columbus this year. After a few google searches, the answer was yes.
Let's forget the champs for today-Here are 10 Burning Questions around the NCAA for 2015
Notre Dame is playing Texas week one. Should Anybody care?
In any other era of college football, an Irish/Longhorn matchup would have created more buzz than the eventual Rousey/Mayweather MMA bout (count on it). Now, both teams are coming off a pedestrian season(s) and the game has as much interest as an Adam Sandler post 1999 movie.
I'll be tuning in, but the winner of this match-up will have a lot more to prove.
Why is Michigan opening on a Thursday night in Salt Lake City Utah?
When one of the most prestigious schools in the country hires one of the strangest men in the universe, where is the perfect setting to start the new era?
How about Salt Lake City, Utah at 6:30 on a Thursday evening? This odd game will tell fans a lot about where the Wolverine program is headed in 2015. In my opinion, a win at Utah could launch UM into a successful 9-10 win season. With a disappointing loss, I'd be willing to bet money that TTUN finishes the non-conf. schedule no better than 2-2.
What was Mizzou thinking scheduling BYU on November 14th?
While most SEC schools are gobbling up a delicious cupcake for their November open date, Missouri decided to schedule an all risk-no reward game against Taysom Hill's Cougars.
Beating the independent BYU will not get the SEC East champ any credit (though it should) and losing to them could give another black eye to the struggling division if Mizzou manages to reach the SEC title game two weeks later.
I'm not sure if this scheduling is courageous or incompetent.
Is Christian Hackenburg good?
Honestly, can somebody please tell me?
 
Will either LA school become a top dog?
Both Southern California and UCLA have been recruiting as good as anybody other than Ohio State or Alabama for the past few years. Yet neither have gotten over the 10 win mark since Pete Carrol left in 2008.
Is 2015 going to be another year of really talented players just being good in Hollywood?
 
Should anybody pay attention to Dak Prescott?
Mississippi State's golden boy was the "it man" in college football two weeks into November last year. SEC and National championships hopes were at an all-time high for the Bulldogs…
Then the Heisman front runner went on to lose 3 of the teams last 4 games (not all his fault) and is not on the tongue of any analyst or scout right now, which could be a good thing.
With games against LSU and Auburn in weeks 2 and 4, college football fans should know if the Bulldog leader was a fluke in 2014 by September 26th.
 
Why does Bowling Green insist on being communist?
Once again the Falcons will not play a Saturday game for almost the last half of the season in 2015. The last time BGSU gets to run out of the tunnel on a crisp fall weekend will be October 24th.
Everybody loves a good #Maction game on a Tuesday or Wednesday but I would not be happy if I was a player.
 
How will the West be won?
Who wants to win the Big Ten West this year? The Badgers? Huskers? Gophers? Mud Dogs?
I think Wisconsin will be the best of the above average and make another trip to Indy.
 
Is Connor Cook the first MSU quarterback to become elite?
Drew Stanton, Kirk Cousins, Bryan Hoyer were all decent quarterbacks for the Spartans with decent NFL careers and they have nothing to be ashamed about but…
Does Connor Cook have the ability to become great? I would guess yes, assuming he's not there already.
Mark Dantonio has taken MSU to new heights in the past couple of years and I think this year he will send out his best signal caller ever. How big will the separation be between the three good quarterbacks mentioned? We should be able to answer that question pretty early in the season when the Oregon Ducks come to town.
 
Is LSU a threat to win a national title again or are they now Georgia Southwest?
Coach Les Miles has a national title (2008) under his belt, gotta acknowledge that. However, in that season that team did choke away their last regular season game and got to matchup with an outmatched green Ohio State team to win it all. 2008 was a fluky year and the only year since the BCS started (1998) with a two loss champion.
Recruiting is still superb but it's starting to get a little itchy down in Baton Rouge. Is LSU closer to Bama as a top 5 program? Or are they more along the lines of an always talented but always coming up short Georgia program?
2015 is looking like another year of quarterback roulette and Miles cannot let arguably the best player in the country in Leonard Fournette go to waste again.