The 2014-15 National Champion Ohio State Buckeyes were a very young team, led mostly by underclassman (Class of 2013 more specifically). Because of that, most of the starters are returning, but there are several positions where the starter, or depth order is unsettled. In order for the team to be as good, or better than the team from last year, the new starters must be about as good as the person they are replacing. Although Urban Meyer settled some of these position battles in the spring, we are still going to look at some of these "battles", and discuss who I think will come on top.
1. Right Tackle -Â The starter here has pretty much been penciled in already as one of the starting 5 Offensive Linemen. That guy is Chase Farris. Chase has had an interesting run to get to this point, moving from defense to offense, and back a couple of times, and as a redshirt senior, I think it's great to see a guy who's worked this hard and stayed "loyal" for all this time getting his opportunity (very similar to Darryl Baldwin who did a fine job last year). Chase will likely have the job, but I don't expect his "competitor" to lay down lightly. This competitor is true Sophomore from Chicago, Illinois, Jamarco Jones. Jamarco was a highly touted recruit in the class of 2014, and he did a great job backing up Taylor Decker (even though he didn't get much playing time). " He has streaks, and he'll show you flashes of 'Wow, this kid can be a great player,' but I think consistency is a big thing for him." Taylor Decker said when asked about Jamarco. Decker later went on to say "I've been really impressed with Chase. He had a great off-season, I thought. He knows he's got a big opportunity and I think he's going to do everything he can to seize it." Because of that, I think Chase will hold on, and be the starting RT come September 7th.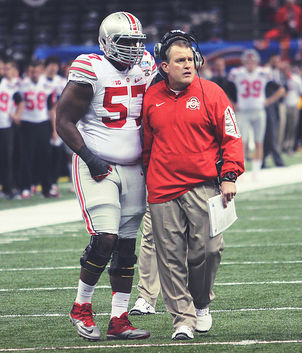 2. #2 Cornerback - Again at this position, Urban Meyer has named Gareon Conley the starter opposite Eli Apple. Still, Urban wants competition, and I don't think the young guys are going to just let Gareon have the spot. The two main contenders to challenge Gareon is redshirt freshman Marshon Lattimore, and true sophomore Damon Webb. These are two more highly touted guys from the class of 2014 (That seems to be a common trend) who were both expected to come in and play last year. Damon played sparingly, but mostly on the kick-off unit, and Marshon had  to take a redshirt and miss spring practice because of a hamstring injury that he suffered in High School. When asked about this competition Coach Kerry Coombs said " Damon Webb is nipping at his heels, and he wants that job. I expect him to play corner. I think it's competition, competition, competition. I think he's a very, very good football player." And then about Marshon, Kerry said "We're very excited, I saw enough of him before he had the surgery to know that this guy can play… I expect him to play." Jeremy Birmingham from Elevenwarriors said that pre-injury, Marshon Lattimore was a true contender for the open spot last  year that Eli Apple eventually won. That's extremely impressive for a true freshman, and now that he is said to be healthy, I expect him to make a run at the starting spot. I still think Gareon will be the starter, but it will be a great competition.
3. Weakside Defensive End (Viper) -Â With both Steve Miller and Rashad Frazier graduating, there is a huge gap that needs to be filled at the DE opposite Joey Bosa. The good news is that there are three quality players looking to come and fill it in. They are redshirt sophomore Tyquan Lewis, redshirt freshman Sam Hubbard, and true sophomore Jalyn Holmes. It's been implied that Tyquan Lewis will be the starter, but the guys behind him are going to fight for it. Jalyn came to Ohio State as the guy looked to replace Noah Spence as that speed rusher. He was good enough to be on the two-deep and play as a freshman. Although he only played in nine games, he had two more tackles than Tyquan did last year. Now, you probably remember all the praise Urban Meyer gave for Sam Hubbard, and the dilemma Urban had to keep his redshirt or burn it mid-season. The reason for this is that Sam came to Ohio State without a true position. He switched from safety, to linebacker, to TE, and then eventually arrived at his true position, defensive end where he thrived on scout team. "Sam Hubbard, I went against him all last year on scout team, and he was – Â not to take anything away from a lot of the D-ends that I played – Â but he was better than a lot of them. That kid's got all kinds of ability. He's getting stronger. He's a big kid, he's quick, he's got a lot of ability." Taylor Decker said of Sam Hubbard. With that kind of praise, I believe that Sam will be the starter. Now, with Larry Johnson's philosophy, all three will get plenty of playing time, so even the non-starters will produce numbers.
4. 1-Technique Defensive Tackle (Nose Guard) -Â I truly believe that how well we can fill in this position will determine the success of the team next year. This position is vital in stopping the run, and really just occupying blockers to help free up the back 7. Last year, Adolphus Washington manned this position, and Michael Bennett played 3-technique. They did a fantastic job at disrupting the other teams offensive game-plan, especially down the stretch. This year, Adolphus has moved to his true position at 3-tech, and Tommy Schutt will be looking to start at the nose guard position. Going into last year, Tommy was listed as a co-starter with Michael Bennett. We know had that worked out, but it shows you how the staff thinks of him. Now, with Joel Hale moving back over to defense after a short time at the O-Line, he could give some competition to Tommy. Joel played quite a bit during the 2013 season, mainly just taking on several blockers, which is ideal for this position. There are also young players like Donovan Munger and Michael Hill looking to potentially start. Munger is a monster at 6-4 306 lbs, with extremely quick hands and feet. The staff has confidence in him to play, and I think he will get plenty of PT. Hill only played in 4 games last year, so it remains to be seen if he has improved enough to capture the spot. Tommy needs to be a bit more consistent, but I think he is the best option at nose guard. I believe he will start on the 7th of September.
5. H-Back -Â This position battle is pretty interesting especially considering nobody left, and there is a person still on the team-Jalin Marshall- that was excellent at it late in the year. It's unclear if Jalin will play much H-Back this year because he was moved outside during the spring. "Flexibility is what I"m training for, the ability to get him outside if that's what the offense needs. And, it's also going to help him because a slot will occasionally get pressed." Coach Zach Smith said on why he moved him to the outside for the spring. So, Jalin will likely still stay in the slot, but I think the team may be looking for him to help and replace Devin Smith. Also, there is true junior Dontre Wilson who broke his foot during the Michigan State game and missed all of the spring with that injury. Then, there is Curtis Samuel who got moved to the WR room during the spring to help get him more playing time, because that wasn't necessarily available in the RB room for obvious reasons. Lastly, there is redshirt freshman Parris Campbell Jr. who is said to be the fastest player in the WR room. Now that Dontre Wilson is finally healthy and very "hungry" (According to his tweets), I think he is finally primed for his breakout season. Curtis will get plenty of playing time as well. "At the end of the day, we're going to get the best players on the field. We're not going to have guys (like Curtis) sitting on the bench because Zeke's the running back and only have (Curtis) play 10 snaps a game." said Coach Zach Smith. That speaks volumes to the type of playmaker Curtis Samuel is. So, this fall camp will certainly be interesting at H-Back. I'm not so sure any one of them will come out being named the starter. My prediction is that all three will be listed as co-starters when the first two-deep comes out.
6. Quarterback -Â Well, this is the position that seems like the whole world is watching. The biggest QB battle in the history of college football. We have redshirt senior Braxton Miller who has won two B1G MVP's, and just so happens to be one of the best athletes in the country. We have J.T. Barrett who set the B1G record for TD's accounted for in a season, breaking Drew Brees' record. Then we have the outgoing Cardale Jones who has started only 3 games, but in them won a B1G title, Sugar Bowl, and National Championship. What a problem to have. For me, the choice seems simple, though. Braxton is an elite athlete, that is pretty good at the read option, has a very strong arm (hopefully it's fully back after two labrum surgeries), but sometimes is inaccurate or can't control the velocity. Next is J.T. who is an okay athlete, but is very strong and efficient as a runner, and is often surprising with his speed (See Minnesota game 1st quarter). He's very smart at the read option, and very accurate and precise with his throws. His arm is pretty good, and he's certainly much stronger from last year. Then there's Cardale Jones, who is an okay athlete, but he will run through you, and his speed is much improved from last year. He was not very good at the read option, but he has a cannon of an arm-I would say the best in the nation-and is fairly accurate. From that simple analysis, I would certainly pick J.T. Barrett. He is so efficient with the offense, and is perfect for all the playmakers we have. For this team, the QB just needs to be smart, be able to distribute the ball to all the playmakers, and perhaps run the ball a little in our zone read system. J.T. fits great for that, so therefore I think he will be the starter. Also, I wouldn't be too shocked if Braxton announces he will switch positions later this week, but if not, I have confidence Urban will find ways to get him on the field if he doesn't start.
Overall, this will be a very exciting fall camp to watch. There will be plenty of battles to be fought and won, and playmakers will be everywhere. Also, the whole sports world will be watching to see who Urban will choose to take the reigns of the offense.