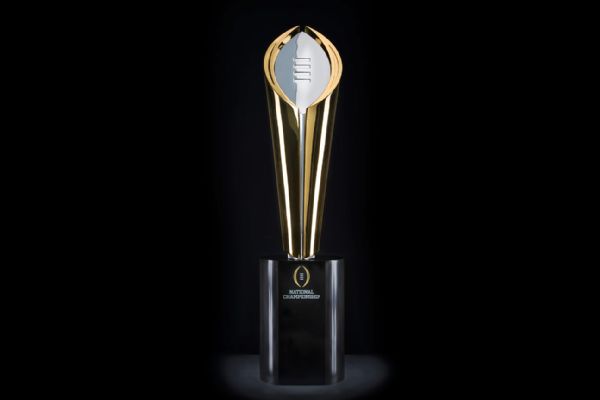 The handsome fellows of Ohio State will be going old school with their gray stripes against the big fat meanies of Alabama on Thursday night. I hope most of you have the day off Friday because it could be a late one…
For some reason the other playoff game (Oregon vs Florida State) will kick off a little after 5 o'clock in Pasadena.  With most NCAA games lasting 3.5 to 4 hours the chances of the night game kicking off at the scheduled 8:30PM timeslot is a pipedream.
Why the Rose Bowl isn't scheduled to start at 4 or 4:30 is beyond me but whatever.
So how will this game that will end Friday morning play out? Here is your big game preview:
When Ohio State has the ball

:
The biggest unknown matchup of Thursday will be when the Buckeyes have the ball.
10 Biggest question marks:
Who is Cardale Jones?
Can Ezekiel Elliot get his against an outstanding run defense?
Are Alabama's corners as beatable as they have looked the last two games?
Is Dontre Wilson healthy?
Will Jailin Marshall get some actual passes at quarterback?
Can the Ohio State offensive line contain the best front seven they will see all year?
Will Cardale Jones be able to run the football?
Can Curtis Samuel make an impact?
Who wins the big play battle?
How many turnovers will Bama create?
10 Meaningless/Interesting Numbers:
Alabama is the 10th ranked team in the country total defense
Ohio State the 8th ranked total offense.
The Bucks have 5 players with over 20 receptions.
Ohio State has 10 players with over 10 receptions.
Ezekiel Elliot averages 6.5 yards per carry.
Kicker Sean Nuernberger is 11 of 18 on field goals on the season.
Ohio State has 6 players averaging over 5 yards per carry (minimum 15 attempts).
Alabama is tied for 84th in the country in turnovers created.
The Tide have 28 sacks on the season which is good for 63rd in the country.
Yardage wise, Bama has played 3 of the nations top 25 offenses.
10 Baseless-Gut  Predictions:
Cardale Jones throws for 270+ with 2 tds.
Cardale Jones turns the ball over at least twice.
Ezekiel Elliott scores two times.
Devin Smith will have a play go 40 yards+
The Ohio State tight ends will be a non factor.
Alabama will sack Jones more than 3 times.
Dontre Wilson will have less than 4 carries.
Ohio State will miss a field goal.
The Southern crowd will not hinder the Ohio State offense as it will be a 50/50 split.
Corey Smith will have a huge play that impacts the game… Good or bad.
 
Bama Fan Message Board Analysis:
 User BadgerTidefan-From Tidefans.com on Tim Tebow speaking  to the Bucks– "This strategy could backfire on Urban when the guys on the team see Tebow on TV predict an Alabama win after he's been trying to motivate them, imagine how they may feel. There may be a little conflict of interest involved in this since he and every other guy on sports tv has to provide commentary leading up to actual game."
 
Yup, once those Bucks are in the locker room getting dressed before the game and see Timmy Teebs pick Alabama, it's all downhill.
 
 
 
 
When Alabama has the ball-



 
Both teams know who they are and what they can do when Bama takes the football:
 10 Biggest question marks:
Joey Bosa against a freshmen? Uh oh.
Which Ohio State run defense will show up? The Indiana and Michigan or Wisconsin?
Will Blake Simms make the mistakes that hurt him early in the season?
Will Amari Cooper get 100 or 200+ receiving yards?
How healthy is T.J. Yeldon?
Who will play the majority of snaps at MLB for Ohio State?
Can the Ohio State defense keep the turnover machine going?
Will Bama's other WR's make the plays if Cooper is covered.
Who will matchup with the Tide's gigantic tight ends?
Will Rashad Frazier and Steve Miller step up as Joey Bosa's opposite like they did against Wisconsin?
10 Meaningless/Interesting Numbers:
Alabama is the 15th ranked total offense.
Ohio State is the  15th ranked total defense.
The Tide are 96th in the country in fumbles lost with 12.
The Buckeyes are tied for 77th with 8 fumbles recovered.
T.J. Yeldon has 932 yards rushing while Derrick Henry has 895 yards.
Both backs have 10 touchdowns.
Amari Cooper has 1600 receiving yards. The next closest Tide member has 439.
Kicker Adam Griffith is 12 of 19 in field goals this season.
Alabama has 7 players with 10 or more receptions.
The Ohio State D. is 4th in the nation with 21 interceptions on the year.
10 Baseless-Gut Predictions:
T.J. Yeldon will be held to less than 60 yards.
Amari Cooper will find the endzone at least once.
An Alabama tight end will also score a touchdown.
Joey Bosa will put up 1.5 sacks.
Blake Simms will throw a costly interception.
Blake Simms will throw for 300 yards.
Darron Lee will have two tackles for loss.
A reverse or a sweep will go the distance for an Alabama back/wide receiver.
Alabama will be called for holding two or more times.
The weak Ohio State zone defense will give away many easy points, even to teams that can't shoot.- Whoops wrong sport.
Bama Fan Message Board Analysis:
 
User A One from Bama's 247 site on Ohio State safety Von Bell– "I know for a fact that not only did we pass on Bell, but that our recruiting board had several defensive backs listed ahead of him."
 
Of course, Bama certainly passed on a 5 star position of need from their number 1 pipeline state…
 
Closing Thoughts:
 
This maybe one of the most exciting games in Ohio State history, there is no pressure and nobody expects the good guys to pull it out. You just don't beat the mighty Alabama with a 3rd string quarterback…
Right?
Wrong.
Ohio State shocks the nation-
34-27