There isn't much to say that these can't-Here is how I have felt since late Saturday night and it's still going…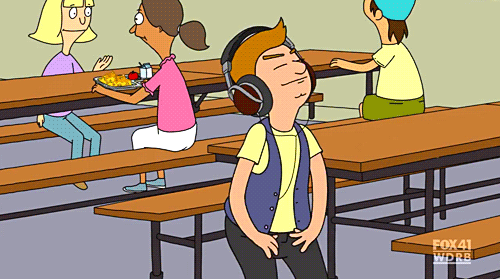 It's a feeling I don't think I've felt since the end of the Ohio State Michigan game of 2006. We all know the man who came out on top that year so let's hope that is a sign of things to come.
The best part of being a negative pathetic P.O.S. fan like myself when something like Saturday night happens, is a feeling of pure surprise and joy that is indescribable. It's like a perfect cocktail of a fine vodka shaken with man-emotion and a dash of rainbows. All you believers who saw this coming weren't near as giddy as me and my father,Mr. Negabuck, were sitting in the stands Saturday night.
OK you probably were…
Here is how someone with a brain disorder like mine thinks from start to finish in a blowout:
7-0 "O.k. great start, wasn't expecting that. It's going to be a shootout."
14-0 "Alright alright, pile on the points before the Badgers get going."
17-0 "Daggumit we will regret not punching that in for 6; Melvin Gordon is too dangerous."
24-0 "Couldn't ask for a better start I guess."
31-0 "I think the Big Ten record for points come back from is 31, need to get off that number."
38-0 "What the hell is going on?"
45-0 "I think we may have enough points to start running out the clock."
52-0 "This is certainly a dream; any second now I'm going to wake up in my hotel's bed on Saturday morning. At least I'll get to eat that free breakfast again."
59-0 "…Speechless."
Clock hits 00:00
It was the best performance for the Bucks under Urban Meyer and they'll be plenty of time to look ahead to Bama. I say we take some time to enjoy a truly special season.
Let's look back at the Top 5 Defining Moments of the Ohio State Season:
5. General Lee takes Down Navy:
With a million new faces on the field and the Buckeyes in danger of losing the season opener Darron Lee punched momentum right in the face and kidnapped his children.
4. J.T. Finally Arrives:
After solid games against Kent State and Cincinnati, the freshmen quarterback showed he was legit in his first road game at Maryland. The one that sticks out is his first touchdown pass (second highlight of video) in which he audibles, brings in an extra blocker and hits Jalin Marshall before he even cuts in the endzone.
 3. Paging Doctor Badass:
Ohio State was ready to lose against a hated rival after a dismal offensive performance in the second half in Happy Valley. Then, after two gutty J.T. Barrett td's in double overtime, Joey Bosa decided to run through Penn State running back Akeel Lynch to sack Christian Hackenburg and keep the season alive.
2. Jalin takes over after disastrous week:
In the previous week at Minnesota, Jalin Marshall fumbled two crucial balls away to cost Ohio State important style points. Urban Meyer didn't waver; he said the freshmen is not coming out of the game against Indiana. The most important of Marshall's FOUR TOUCHDOWNSÂ was the punt return to take back the lead for good.
1. After a total team effort-time to celebrate a championship:
Ohio State dismantled the favorite Wisconsin by 59 points to clinch the Big Ten Title and cement their spot in the Final Four. The team had a blast after the game.
The regular season ended with a bang but the fun aint over yet…
Ohio State players and fans get to measure up against the top dog- Alabama. Have the Buckeye's used up all of their magic this season? Or does it reset to full in 2015?
Either way I know I'll be high stepping and grooving through Christmas, still high off an outstanding year.
Bonus: This looks like fun for some reason, though I'm not sure he was trained properly…
Double Bonus: Don't forget that Cardale Jones once killed a man: