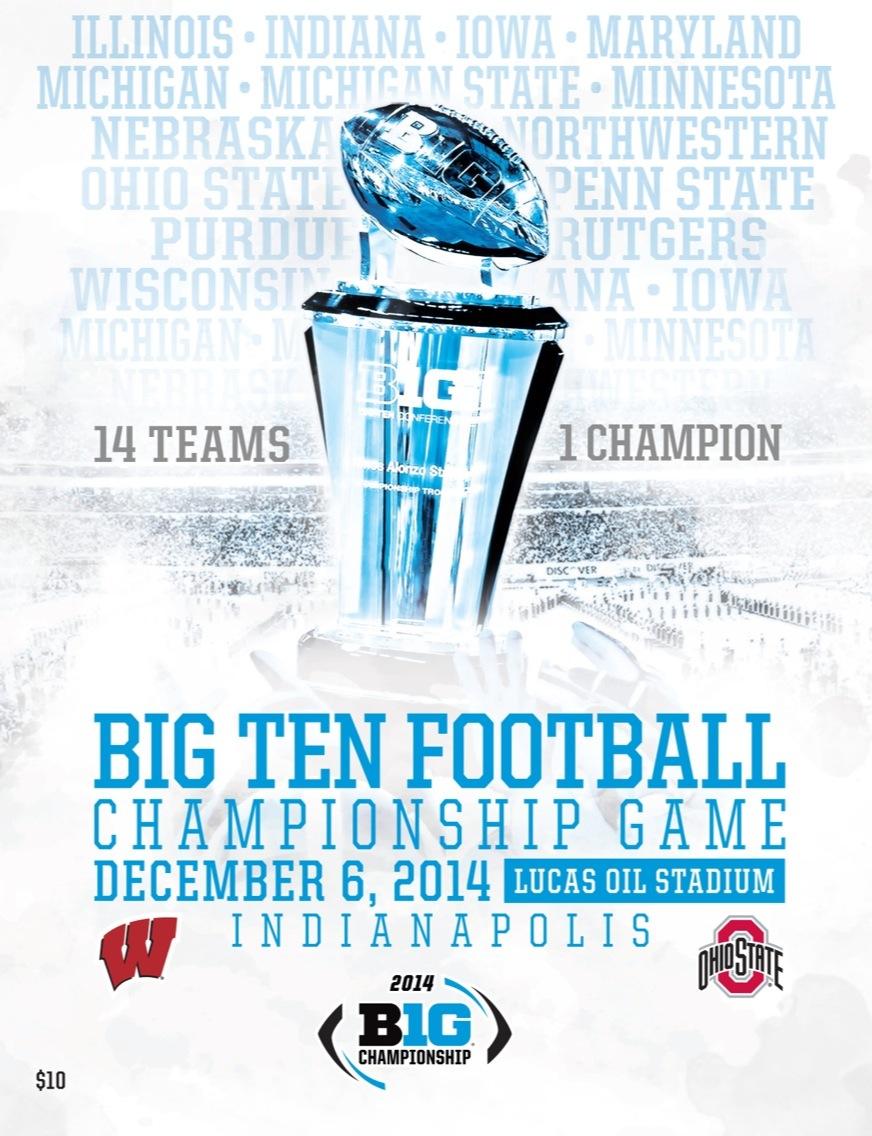 Saturday will mark the second straight year Ohio State has reached Indianapolis for the Big Ten Championship, and the Buckeyes are headed into battle without Heisman contender J.T. Barrett for the first time this season. The game Saturday night also marks the 3rd trip in 4 years to Indy for an also dinged up Wisconsin squad.
This game may be one of the biggest question marks in Ohio State history and anybody who knows how it will play out is a fraud. This match-up is riddled with questions and should make for entertaining TV, even for somebody not pulling for the Badgers or Buckeyes.
How good is J.T. Barrett's replacement Cardale Jones?
How healthy is Melvin Gordon and Wisconsin's offensive line?
Which Ohio State defense will show up?
Is the Badger defense really one of the best in the country?
All of these will be answered in this article Saturday night. Until then, here is what to look out for in this intriguing match-up:
 Ohio State offense vs. Wisconsin defense-
I don't know. You don't know. Hell, I don't even think Cardale knows what kind of quarterback he is and Ohio State can use this to their advantage. Wisconsin knew what they were getting into with the 6'2″, 215 pound Barrett- an accurate passer with great vision and a decent arm.
Now Bucky has to prepare for a monstrous unknown in 6'5″, 250 pound Cardale Jones with a supposed cannon for an arm. It will be interesting to see whether the Badgers will try an attacking approach to try and rattle the newbie, or if they will sit back and force Jones to be accurate.
No matter the strategy, the goal of Gary Andersen will be to make Jones and OSU's wideouts move the ball- not Ohio State's explosive backs in Ezekiel Elliott, Curtis Samuel and Jalin Marshall. The latter will most likely see numerous snaps at the wildcat quarterback position this week. I would be absolutely shocked if Marshall does not throw at least a couple of passes.
Wisconsin doesn't have a JJ Watt or Chad Borland on the 2014 team, but they are an outstanding unit. The numbers tell the story on the defense (national ranks):
4th in scoring defense.
8th in rushing yards allowed.
2nd in passing yards allowed.
2nd in total yards allowed.
These numbers are a little inflated by two factors, however. The Badgers are a top 7 team in time of possession so the defense is not facing a lot of plays from the opposition and teams they have played have been wretched on offense.
Wisconsin has faced one offense inside the top 40 in the country in yards per game (#35 Nebraska), with 7 match-ups against teams ranked 80 or higher. While this doesn't prove that Wisconsin is a fraud, it should ease worried Buckeye fans a little bit.
Conversely, Ohio State has faced 4 top 20 defenses and 3 in the top 10 in yards allowed.
Honestly, these numbers mean nothing the second Cardale walks out of that huddle but they do paint an interesting picture.
Wisconsin offense vs. Ohio State defense-
While both teams have plenty of solid players on their respective units, both the Badgers and the Buckeyes have one guy who gets the pub.
Melvin Gordon is statistically one of the greatest players of all time and there is no arguing that from anybody. He looks to be a lock to head to New York for the Heisman ceremony next week and he was named Big Ten Offensive player of the year on Monday. His strength and speed has NFL scouts drooling and all eyes will be on him Saturday. A big play running back facing a defense of OSU that has been burned the whole month of November by explosive plays is a frightening thought for the scarlet and gray.
The scary part from the Wisconsin side is that Gordon is a little dinged up and two of his big guys up front are questionable to play. This could mean big things for Ohio State's defensive line whom also boast one of the nations best players, Joey Bosa. The young man is the Big Ten Defensive player of the year and will need to make an impact to slow down the Badgers running game.
Bosa may be the best in the country at rushing the passer but is less consistent as a run stopper. If you're Wisconsin's coach Gary Andersen, do you stay away from him on first and second down, or are you going right at him hoping he over pursues?
Ohio State will need to focus on stopping the running game and dare Joel Stave to make the throws downfield to win. The Badgers are one of the worst passing teams in the nation statistically. No real threats have emerged for the Badgers and OSU needs to keep it that way. A team cannot stop MG3 for 60 minutes and needs to contain all other threats to keep the Badgers from going off.
Here are both teams by the numbers:
Wisconsin- 3rd in rushing yards, 119th in pass yards, 15th in scoring offense,  21st in total offense.
Ohio State- 40th in rush defense, 17th in pass defense, 29th in scoring defense, 19th in total defense.
The game may be decided by red zone trips and Wisconsin definitely holds the kicking edge.
How it will end-
This may be the most difficult game to predict of the weekend, even for the sharpest bettors. There are way too many unknowns with injuries and unproven players, but I believe the good guys pull it out.
Ohio State 27 Wisconsin 20.
This game is going to be a lot of fun and the pressure has dropped immensely after Barrett's injury. Most analysts are picking Wisconsin and saying how unfortunate the Buckeye's luck has been.
But if they can pull it off…