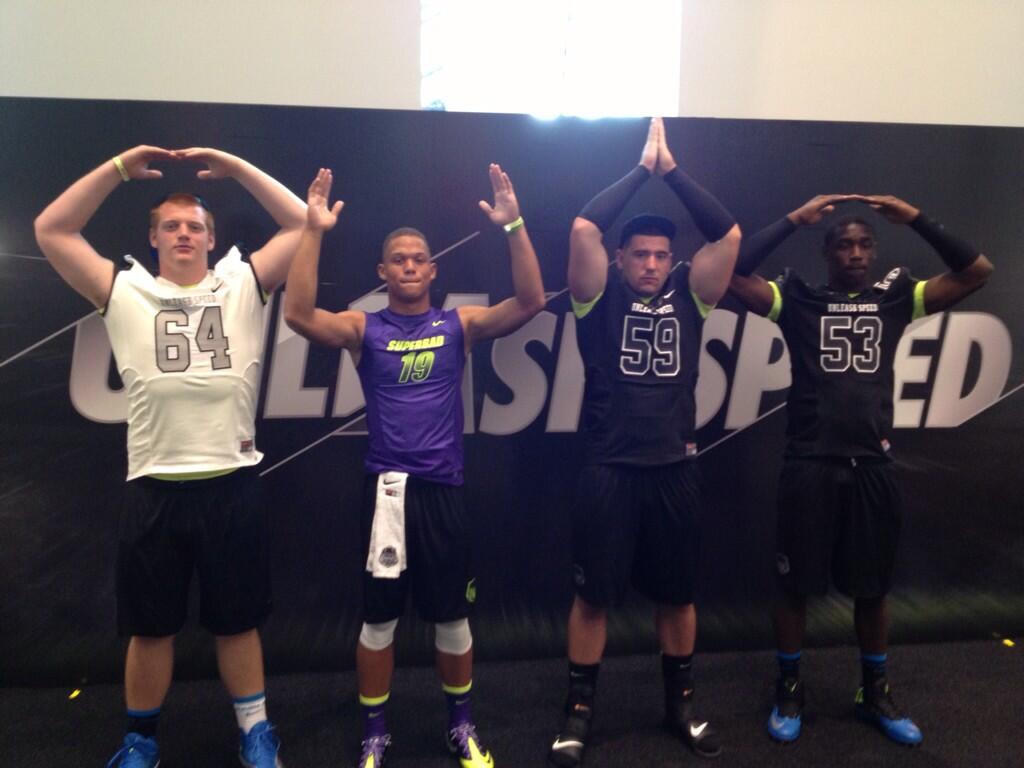 This past week the biggest high school football camp in the country took place in Beaverton, Oregon.  This event, called The Opening, is a week-long competition among the best high school players competing head to head. This is the first year where they combined the first cut of the Elite 11 with The Opening. All of the 153 players there participated in the Sparq challenge. They also had 7 on 7 tournaments along with OL vs DL one on one challenges and Wide Receivers vs Cornerbacks. It will come as little surprise to Buckeye fans that have been following our current commits, the Buckeyes had the most commits participating in this event with nine. Here is a quick rundown on how each of our commits performed.
The most impressive/ surprising performance of all the commits of the entire weekend has to be Wide Receiver Terry Mclaurin. During the Sparq challenge he proved he was the second best out of all the 153 athletes who participated. He put up numbers that give Buckeye fans reasons to be so excited for the upcoming season. Along with the other athletes OSU will soon have at their disposal, this will undoubtedly be a very interesting season. Â This is just one more example to never doubt Urban Meyer on his camp offers. Terry's numbers for the four events for Sparq were 4.4 seconds for the 40-yard dash and an amazing 44.8″ vertical jump. He also had a 42′ power toss and a 4.07 second shuttle run. In the final competition he came in second overall by winning 3 of the 4 events. In addition to his incredible athletic ability, on the last day of 7 on 7, he hauled in four TDs. This led the day in touchdown catches. All of the coaches there said they expect Terry to have a significant rise in rankings and that he proved he could play with anyone in the country.
The second most impressive commit was Dante Booker. He ran a blazing 4.52, which was 3rd for all linebackers. Dante's shuttle was 4.31, his power ball was 45′ and his vertical was 33.7″ which led to a Sparq score 120.66. The website 247sports.com voted him as the most impressive and disruptive linebacker as he had a 100-yard pick six and 6 pass break ups. He showed he was a playmaker at the linebacker position and that is something we have been missing, especially in coverage. He earned a spot on the All Opening Dream Team.
Kyle Berger, a linebacker from St. Ignatius in Ohio, also had an impressive week and was another player that passed the look test. He has put on weight since the last time he camped and now weighs in at 222, which is 10 lbs heavier than before. This was much needed if he wants to be able to disengage lineman. His Sparq numbers were not the most impressive as he recorded a score of 105.87, but once they got into the 7 on 7 you really got to see why he is going to be a great linebacker at OSU. He was very instinctive and was able read the play in plenty of time to react and make play after play. Kyle was another buckeye who recorded an interception.
At the age of 15 which was two years younger then most participants, Parris Campbell more than held his own. He came in third place in the smokehouse race with a blazing speed of 4.41 seconds in the 40-yard dash and also had an impressive vertical leap of 40.1 inches. As soon as he gets two more years of strength and experience expect these numbers to drastically increase and possibly be Sparq records. During the 7 on 7 tournaments he struggled a bit with his route running ability mostly because he is used specifically as a Halfback in high school. As the week progressed he showed off his athletic ability and eagerness to learn a new position by catching numerous balls and becoming one of his teams most reliable receivers.
Our next commit to have an outstanding week was pass rushing specialist Jayln Holmes out of Norfolk, Virginia. He is still growing into his body and has not quite adjusted to playing with the bigger, stronger offensive linemen. In the one on ones he really struggled in the beginning but once he gained confidence he showed why Urban personally recruited him. He displayed his violent hands and a quick first step and he showed that with a little more coaching he could potentially see the field early at Ohio State. His most impressive one on one was against Quinton Nelson where he used his spin move to blow by him and get to the dummy. He ran a 4.94 second 40 and his shuttle was impressive at was a 4.6 seconds and his power ball toss was 41". He earned a score of 92.58, which was impressive for a defensive lineman.
One of our newest commits is Quarterback Stephen Collier who competed in the Elite 11 challenge along with the 7 on 7 tournaments. According to Trent Dilfer, he struggled his first two days, but once he got his confidence he proved to be one of the smoothest quarterbacks Trent has seen all year. He had difficulty on the deep throws but when it came to the out routes and slants I did not see a better prospect. During the 7 on 7 he was the third string QB so he did not get to play much and he did not play well. However Stephen showed signs all week of potential and promise, and I think Urban saw how much upside he has.
Next, is the leader of the recruiting effort, Cornerback Damon Webb. Numerous recruits have mentioned him being in their ear about them being a Buckeye! He really struggled in the Sparq running only a 4.67 second 40-yard dash, which is surprising considering how athletic and versatile he appears on the field. His Sparq score was surprisingly low with an 84.27, which proved to be quite a bit lower than the average corner back. During the 7 on 7s Damon demonstrated that he did not need to have the best Sparq scores to show he belonged on the field with the best CB's and go against top notch WR's. He generally held his own but struggled a little with the smaller, faster slot receivers but had no problem with the bigger stronger wide outs. Damon was another Buckeye with an interception by picking off QB Drew Barker in the end zone.
Offensive Lineman Kyle Trout did amazing at his size in the Sparq challenge by recording a Shuttle time of 4.42 seconds, which is incredible for a 6"5.5 297 lbs offensive lineman. This was the second fastest time of the entire lineman. He struggled mightily early on during the one on ones. He started off at Left Tackle which is what he is being recruited to play at OSU. He got run over and looked lost against the best defensive ends so they gave him another chance at Right Tackle. He looked much more natural and fought the entire time and won his last three reps.
Last is DL commit Dylan Thompson. Unfortunately, he was injured all week and was unable to compete in either the Sparq challenge or the OL vs DL one on one challenges. However, he was there sporting his Scarlet and Grey and letting other recruits know that Ohio State is building something special and he wants them to be apart of it.