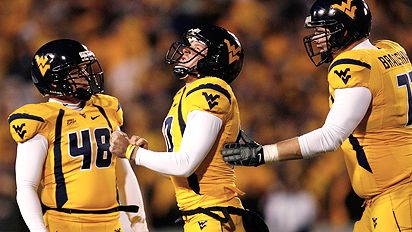 So as I mentioned earlier, a soft West Virginia team got punched in the gut and could not recover. They're out. Finished 13-9 by Pittsburgh. Really? Pittsburgh? That's not right. Missouri is struggling and will also probably be out. So now what?
We know this: Ohio State will be playing for the National Championship. It is absolutely killing people outside of Columbus that this is now an indisputable fact. A few items:
Holy crap did the Zebras try to give West Virginia the game. That was disgusting.
That look on Rich Rodriguez's face was one of the saddest things I've ever seen after West Virginia failed on 4th and short.
If I was a fan of an SEC team (I think I just threw up a little there. Excuse me for a sec). Okay, if I was a fan of say, Arkansas or Tennessee and I had to sit through a game on CBS with Gary Danielson having to listen to him give Les Miles and the rest of the LSU team a fricken tongue bath. It's also very disgusting. My foot would be meeting my television, Mr. Mom style.
This is so screwed up and the BCS looks like total gar-baj. Say hello to an OSU versus Hawai'i National Championship Game!