Every once in a while a special moment will occur for the general sports fan. Sometimes these moments will include your favorite team, which can be all sorts of awesome or a craptastic dose of terribleness.
Being an Indians fans has been a tough go for the YNBA this season and most seasons, but there have been a few occaisions, such as seven years ago today, that will always manifest a little warmth in my heart (notably the sub-cockle region). The Cleveland Indians trailed the Seattle Mariners 14-2 in the seventh inning at Jacob's Field. Yeah…if you dont remember the outcome, believe it..the Indians scored 12 runs over the final 3 innings to tie the game and added another in the 11th inning to win 15-14.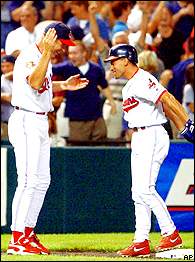 Joel Skinner…Holding people at 3rd Base since 2001.